Mike Gesicki
Miami Dolphins
Tight End #86
Miami Dolphins
Tight End #86
Photo: Icon Sportswire
Personal
| | |
| --- | --- |
| Age | 25 |
| Birthdate | October 3, 1995 |
| Height | 6'5" |
| Weight | 247 lb |
Draft
College
Penn State
Year
2018
Pick
Round: 2, Overall: 42
Team
MIA
Fantasy Value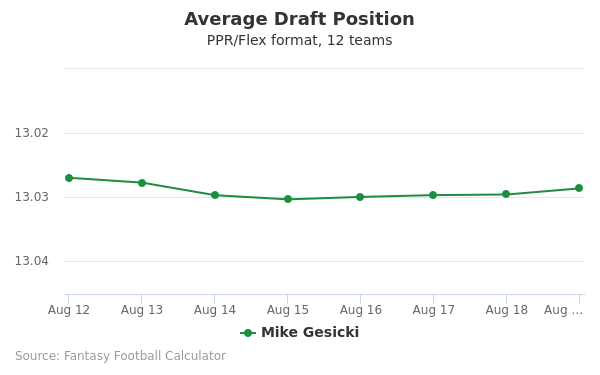 The code below will display a graph that updates every day to show the ADP data for Mike Gesicki for the past 30 days in 12-team PPR leagues.
You may use this graph on your website for free with a link back to this page for attribution.
Player News
Mike Gesicki: Five catches to end solid season
Gesicki caught five of ten targets for 47 yards during Sunday's 56-26 loss to the Bills.
Analysis: Gesicki drew his third highest target total of the season during Sunday's blowout divisional loss, but he wasn't able to do much with his volume on a day that Tua Tagovailoa struggled mightily. The 25-year-old tight end and Tagovailoa will benefit from a full offseason to build up additional chemistry, as Gesicki is no doubt primed to return as one of Miami's pivotal offensive weapons in 2021. Through 15 appearances in 2020, Gesicki notched career-high marks in terms of catches (53), yards (703) and touchdowns (six) while drawing 85 targets.
Jan. 4, 2021 8:34 PM EST
Player Stats
YEAR
TM
GM
Receiving
Rushing
REC
TGT
%
YDS
TD
YPC
ATT
YDS
YPC
TD
FUM
Recent Articles
So far, injuries continue to overshadow the Covid-19 situation during the 2020 season. With a number of stars already out for the season...
Read more »
December 26, 2020. Premium
December 26, 2020
Premium
Week 15 has a bit fewer selection thanks to two Saturday games, and there are quite a few less "dream" matchups this week as well.  This...
Read more »
December 19, 2020. Premium
December 19, 2020
Premium
The playoffs are well underway and there were some huge individual performances last week! Who helped your squad advance to the next...
Read more »
December 15, 2020. Premium
December 15, 2020
Premium
Who Should You Start?
Who Should You Draft?