Ty Johnson
New York Jets
Running Back #24
New York Jets
Running Back #24
Personal
| | |
| --- | --- |
| Age | |
| Birthdate | None |
| Height | 5'10" |
| Weight | 213 lb |
Draft
College
Maryland
Year
2019
Pick
Round: 6, Overall: 186
Team
DET
Fantasy Value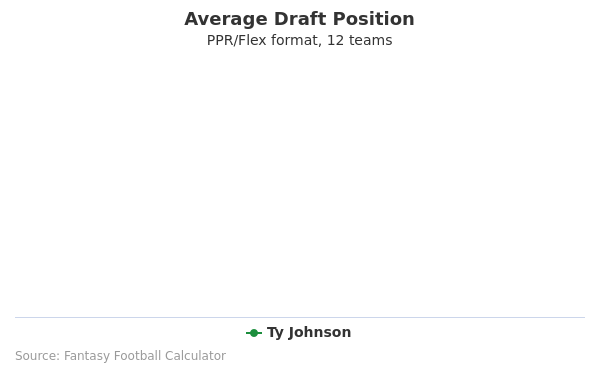 The code below will display a graph that updates every day to show the ADP data for Ty Johnson for the past 30 days in 12-team PPR leagues.
You may use this graph on your website for free with a link back to this page for attribution.
Player News
Ty Johnson: Tops 600 scrimmage yards in 2021
Johnson finished the 2021 season with 61 carries for 238 yards and two touchdowns. He added 34 catches for 372 yards and two touchdowns on 55 targets.
Analysis: Johnson handled himself adequately while bouncing up and down the depth chart in the Jets backfield. He's explosive with the ball in his hands but struggled with drops and a lack of awareness, with the low point of his season coming when the ball bounced off Johnson's back for an interception. The 24-year-old running back remains under contract with the Jets through next season, and Johnson is well positioned to make the team's roster in a change-of-pace role unless the Jets bolster their backfield depth in the offseason.
Jan. 14, 2022 11:04 AM EST
Player Stats
YEAR
TM
GM
Rushing
Receiving
ATT
YDS
YPC
TD
FUM
REC
TGT
%
YDS
TD
YPC
2019
DET
16
63
273
4.3
0
1
24
31
77.4
109
0
4.5
2020
2TM
15
54
254
4.7
1
0
16
21
76.2
99
1
6.2
Recent Articles
Week 14 marks the last regular-season game in most leagues and now is not the time to get fancy with your lineup. A win means you're in...
Read more »
December 10, 2021. Premium
December 10, 2021
Premium
Week 13's Dynasty Week In Review has an eye on some roster stashes for the future, some roster stashes based on league transactions,...
Read more »
December 3, 2021. Premium
This week was another mild week in terms of new injuries, but there were a few worth noting.  There were also a few players who were...
Read more »
November 24, 2021. Premium
November 24, 2021
Premium
Who Should You Start?
Who Should You Draft?