49ers Top Fantasy Players
These are the top fantasy football players of the San Francisco 49ers as ranked by Average Draft Position (ADP) in PPR-format mock drafts.
Data as of March 2, 2021.
George Kittle
George Kittle's current ADP is 2.04, which is the 4th pick of the 2nd round, and 16th selection overall.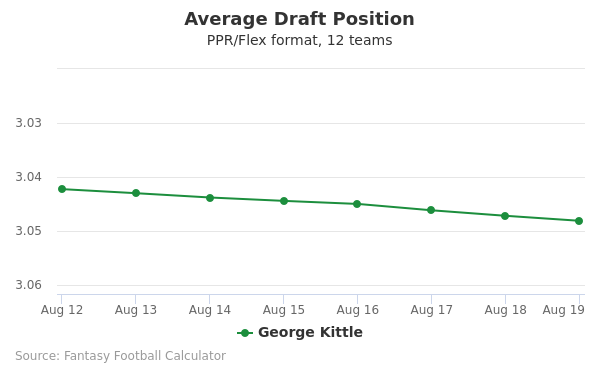 Raheem Mostert
Raheem Mostert's current ADP is 5.01, which is the 1st pick of the 5th round, and 48th selection overall.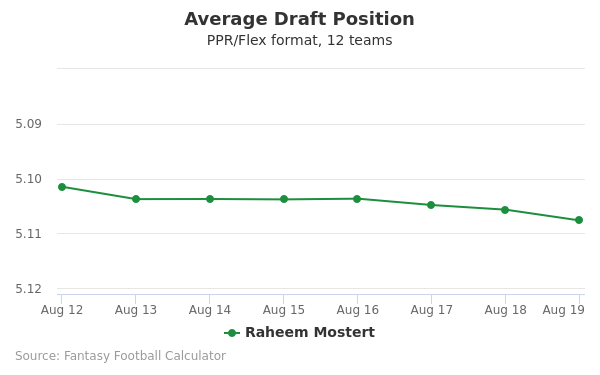 Brandon Aiyuk
Brandon Aiyuk's current ADP is 6.09, which is the 9th pick of the 6th round, and 68th selection overall.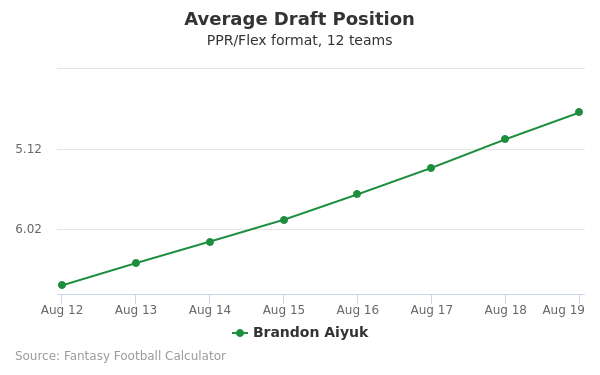 Deebo Samuel
Deebo Samuel's current ADP is 7.08, which is the 8th pick of the 7th round, and 80th selection overall.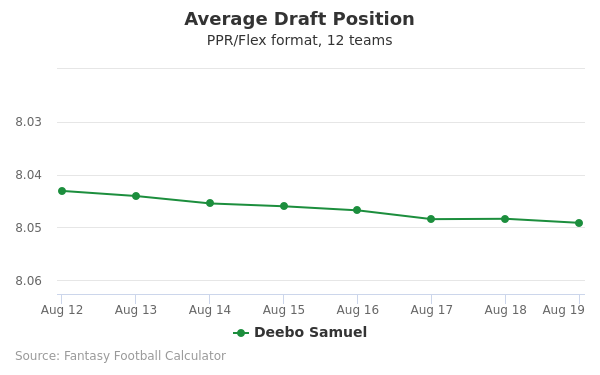 Jeffery Wilson
Jeffery Wilson's current ADP is 9.04, which is the 4th pick of the 9th round, and 100th selection overall.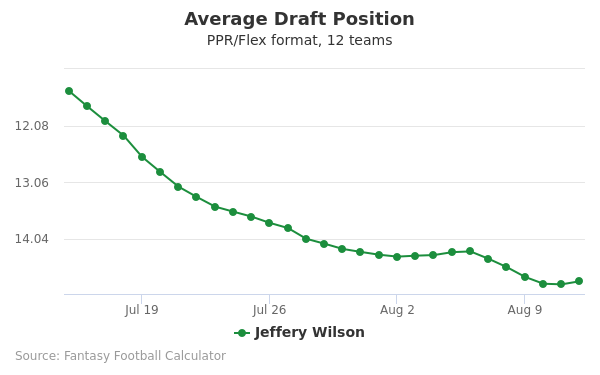 San Francisco Defense
San Francisco Defense's current ADP is 11.02, which is the 2nd pick of the 11th round, and 122nd selection overall.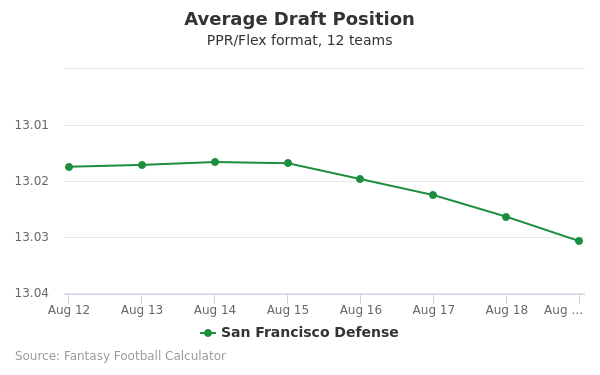 Chris Thompson
Chris Thompson's current ADP is 11.03, which is the 3rd pick of the 11th round, and 122nd selection overall.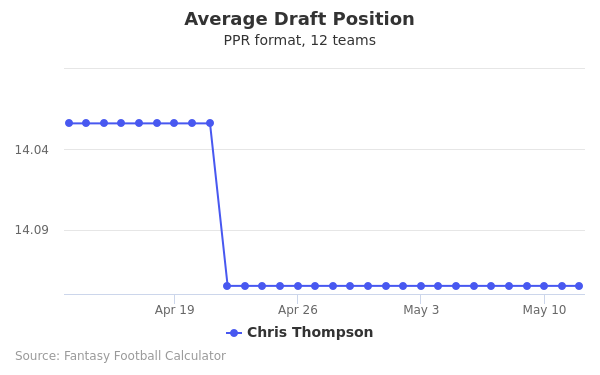 Jimmy Garoppolo
Jimmy Garoppolo's current ADP is 13.03, which is the 3rd pick of the 13th round, and 146th selection overall.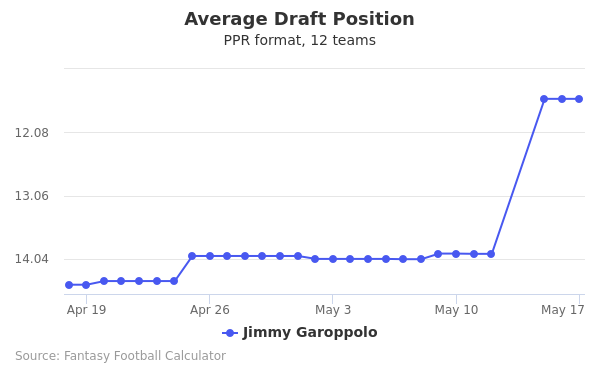 Tevin Coleman
Tevin Coleman's current ADP is 14.02, which is the 2nd pick of the 14th round, and 158th selection overall.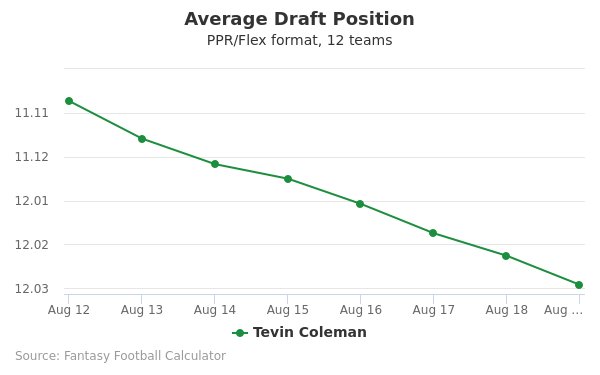 Jerick McKinnon
Jerick McKinnon's current ADP is 14.03, which is the 3rd pick of the 14th round, and 159th selection overall.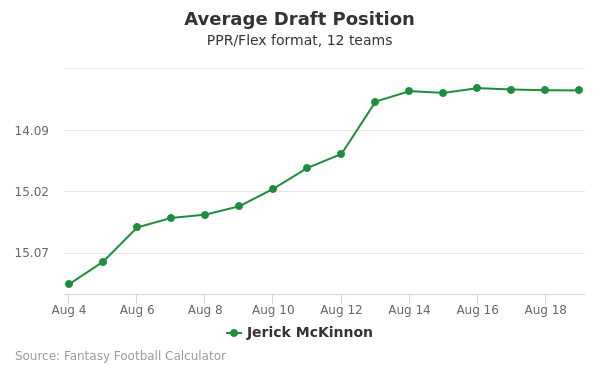 Robbie Gould
Robbie Gould's current ADP is 15.02, which is the 2nd pick of the 15th round, and 170th selection overall.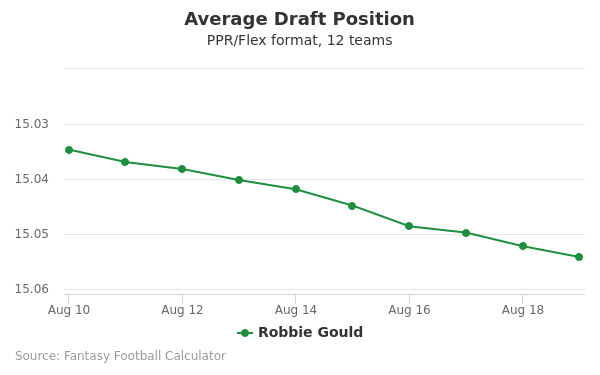 San Francisco 49ers 2020 Schedule
| Week | Home/Away | Opponent |
| --- | --- | --- |
| 1 | Home | Arizona Cardinals |
| 2 | Away | New York Jets |
| 3 | Away | New York Giants |
| 4 | Home | Philadelphia Eagles |
| 5 | Home | Miami Dolphins |
| 6 | Home | Los Angeles Rams |
| 7 | Away | New England Patriots |
| 8 | Away | Seattle Seahawks |
| 9 | Home | Green Bay Packers |
| 10 | Away | New Orleans Saints |
| 12 | Away | Los Angeles Rams |
| 13 | Home | Buffalo Bills |
| 14 | Home | Washington Redskins |
| 15 | Away | Dallas Cowboys |
| 16 | Away | Arizona Cardinals |
| 17 | Home | Seattle Seahawks |
San Francisco 49ers News
Jimmy Garoppolo, Still wanted in San Francisco?
49ers GM John Lynch told the Eye Test for Two podcast he has no doubt Garoppolo (ankle) will be the team's Week 1 starter in 2021.
Analysis: Lynch did stipulate "if he's injury-free" when he was asked about his commitment to Garoppolo, who missed 13 games in 2018 and 10 in 2020. There's been talk of the team pursuing Deshaun Watson, but it isn't clear the Texans will comply with their star QB's trade request, and even if they do, San Francisco can't match the draft picks Miami and New York have to offer. Garoppolo has two years remaining on his five-year, $137.5 million contract, with a dead-cap charge of only $2.8 million if he's traded or released this offseason. Lynch may expect Garoppolo to keep the starting job, but that doesn't mean the 49ers GM won't consider other options. Garoppolo should have plenty of time this winter and spring to recover from the high-ankle sprain that caused him to miss the second half of the 2020 campaign.
February 24, 2021 12:15 PM EST
---
Matt Barkley, Spot action behind Buffalo's star
Barkley took 53 snaps in 2020, completing 11 of 21 passes for 197 yards with a touchdown and an interception.
Analysis: The 2020 campaign was the ultimate Josh Allen Show, so even the most faithful Bills fan would have a hard time remembering when these 21 passes happened, but they did take place over the course of three mop-up duty appearances. Barkley won't wow anyone on the field after being in the league since 2013, but he's served as a good voice for Allen and knows the Buffalo offense as well as anyone, so it'd be a bit of a surprise if the cash-strapped Bills turn to a higher profile backup for 2021. The same quarterback room of Allen, Barkley and Jake Fromm seems the most likely course of action.
February 15, 2021 10:44 PM EST
---
Cole Wick, Let go Friday
Wick was released by the Saints on Friday, Nick Underhill of NewOrleans.Football reports.
Analysis: Wick's time in New Orleans has come to an end after not suiting up for a single game with the team. The 27-year-old hasn't played an NFL snap since 2018 where he missed his lone target. While the tight end has had some time away from the field, Wick will now aim to compete for a depth role elsewhere.
February 12, 2021 2:40 PM EST
---
Blaine Gabbert, Limited action behind Brady
Gabbert completed nine of 16 passes for 143 yards with two touchdowns and no interceptions across four games during the 2020 regular season. He also rushed nine times for 16 yards and committed a fumble that was recovered by the offense.
Analysis: Almost all of Gabbert's action came in a Week 16 evisceration of the Lions, when Tom Brady took an early seat and the veteran backup threw for 143 yards and a pair of scores in the second half. Gabbert otherwise only attempted one other pass all season, in Week 6 against the Packers. The 31-year-old played 2020 on a one-year pact, but given his command of coach Bruce Arians' system and the reasonable salary he'd command, it's likely Gabbert returns to the Buccaneers fold in 2021.
February 9, 2021 5:08 PM EST
---
Austin Walter, Inks one-year deal
Walter signed a one-year contract with the 49ers on Monday, Nick Wagoner of ESPN.com reports.
Analysis: Walter was set to be an exclusive-rights free agent in March, but he's locked down security for the 2021 campaign. The 24-year-old suited up in four games with the Niners last year, rushing once for three yards and caught his lone target for 27 yards.
February 8, 2021 1:09 PM EST
---