49ers Top Fantasy Players
These are the top fantasy football players of the San Francisco 49ers as ranked by Average Draft Position (ADP) in PPR-format mock drafts.
Data as of April 3, 2020.
George Kittle
George Kittle's current ADP is 2.11, which is the 11th pick of the 2nd round, and 23rd selection overall.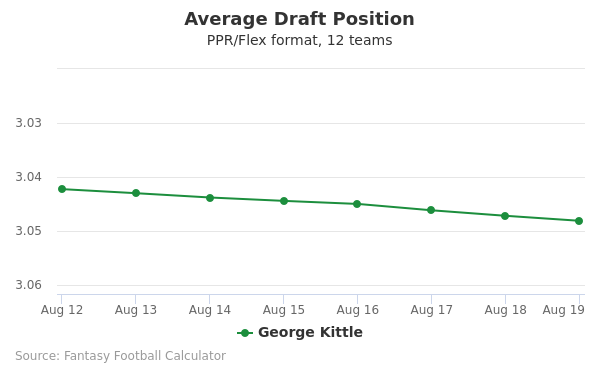 Deebo Samuel
Deebo Samuel's current ADP is 4.05, which is the 5th pick of the 4th round, and 41st selection overall.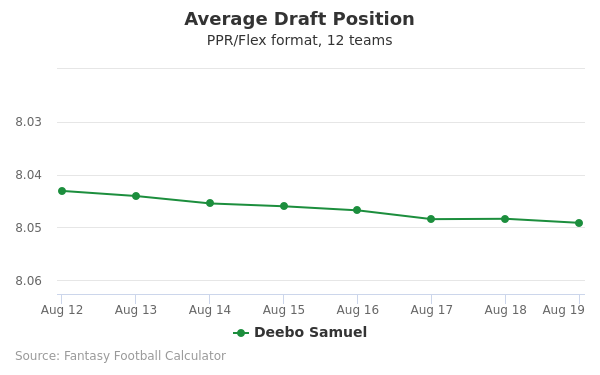 Tevin Coleman
Tevin Coleman's current ADP is 7.08, which is the 8th pick of the 7th round, and 80th selection overall.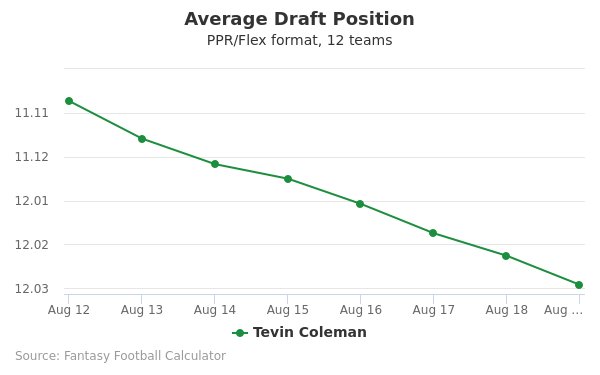 Matt Breida
Matt Breida's current ADP is 9.02, which is the 2nd pick of the 9th round, and 98th selection overall.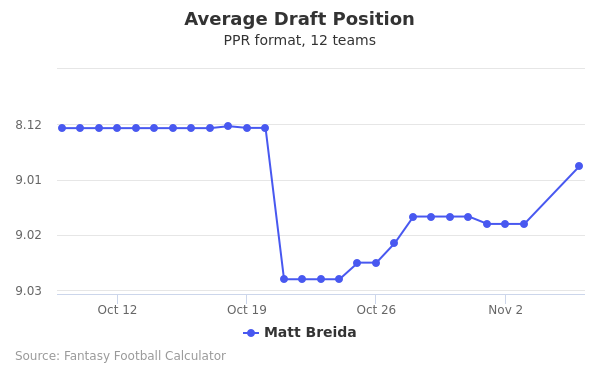 Jimmy Garoppolo
Jimmy Garoppolo's current ADP is 9.07, which is the 7th pick of the 9th round, and 102nd selection overall.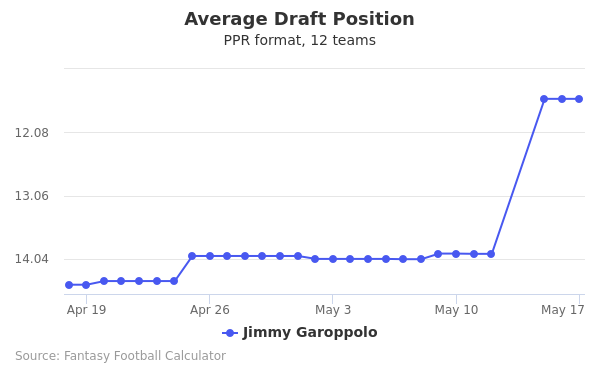 Raheem Mostert
Raheem Mostert's current ADP is 10.03, which is the 3rd pick of the 10th round, and 111th selection overall.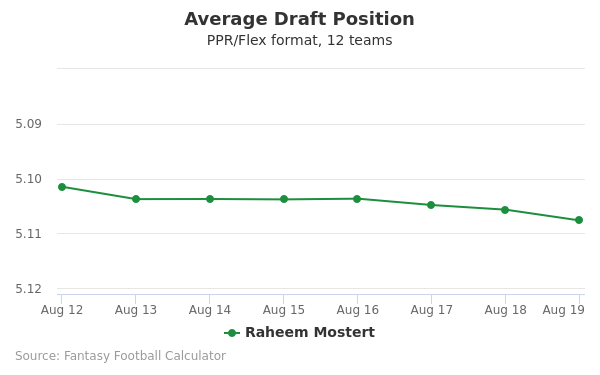 San Francisco Defense
San Francisco Defense's current ADP is 12.09, which is the 9th pick of the 12th round, and 140th selection overall.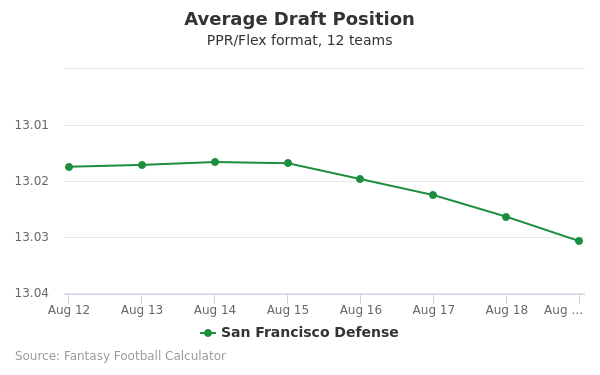 Robbie Gould
Robbie Gould's current ADP is 13.10, which is the 10th pick of the 13th round, and 154th selection overall.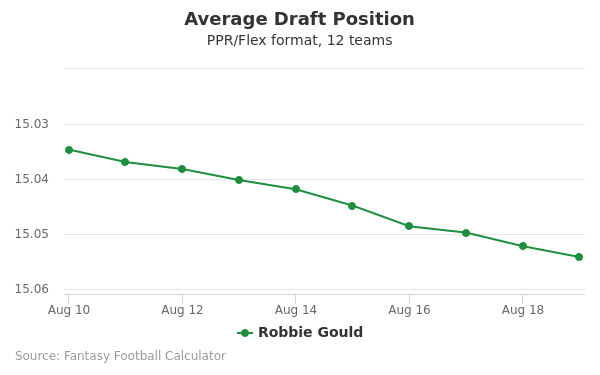 Dante Pettis
Dante Pettis's current ADP is 14.06, which is the 6th pick of the 14th round, and 162nd selection overall.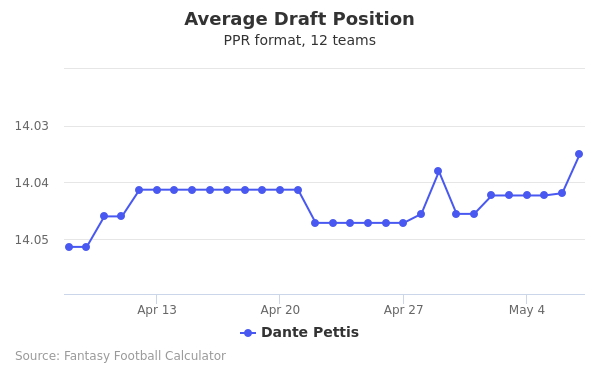 Chris Thompson
Chris Thompson's current ADP is 14.07, which is the 7th pick of the 14th round, and 163rd selection overall.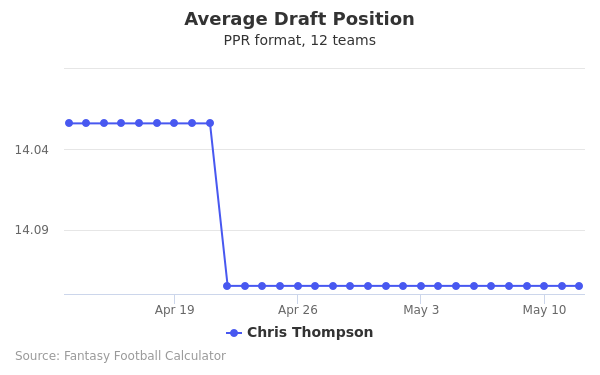 San Francisco 49ers 2019 Schedule
| Week | Home/Away | Opponent |
| --- | --- | --- |
| 1 | Away | Tampa Bay Buccaneers |
| 2 | Away | Cincinnati Bengals |
| 3 | Home | Pittsburgh Steelers |
| 5 | Home | Cleveland Browns |
| 6 | Away | Los Angeles Rams |
| 7 | Away | Washington Redskins |
| 8 | Home | Carolina Panthers |
| 9 | Away | Arizona Cardinals |
| 10 | Home | Seattle Seahawks |
| 11 | Home | Arizona Cardinals |
| 12 | Home | Green Bay Packers |
| 13 | Away | Baltimore Ravens |
| 14 | Away | New Orleans Saints |
| 15 | Home | Atlanta Falcons |
| 16 | Home | Los Angeles Rams |
| 17 | Away | Seattle Seahawks |
San Francisco 49ers News
Blaine Gabbert, Slated to back up Brady
The Buccaneers have signed Gabbert to a one-year deal, Rick Stroud of the Tampa Bay Times reports.
Analysis: Gabbert, who landed on IR last September due to a shoulder injury, is back with the Bucs, presumably healthy and now in line to work behind new QB Tom Brady. The No. 10 overall pick in the 2011 NFL Draft last saw regular-season action in 2018, appearing in eight games (including three starts) with the Titans.
April 2, 2020 11:09 AM EST
---
Blake Bell, Heads to Dallas
Bell is signing with the Cowboys, Todd Archer of ESPN.com reports.
Analysis: Bell has played for four different teams since he was taken in the fourth round of the 2015 NFL Draft, most recently serving as the No. 2 tight end for Kansas City in 2019. With 38 receptions in 65 career regular-season games, Bell shouldn't pose much of a threat to Blake Jarwin.
March 25, 2020 8:09 AM EST
---
Ross Dwelley, Officially back with 49ers
Dwelley inked his one-year contract offer from San Francisco on Tuesday, Matt Barrows of The Athletic reports.
Analysis: The 25-year-old was tendered by the team earlier this month and officially signed his deal. Dwelley is expected to handle the No. 2 role at the tight end position behind Pro-Bowler George Kittle heading into 2020.
March 24, 2020 3:07 PM EST
---
Brian Hoyer, Likely to back up Stidham
Jeff Howe of The Athletic believes that Jarrett Stidham "has the inside track" over Hoyer in terms of taking over the Patriots' vacated starting QB job.
Analysis: Per Adam Schefter of ESPN, the Patriots are slated to pay Hoyer $1.05 million, with the veteran signal caller in line for a guaranteed $2 million, factoring in what he'll get from the Colts, who recently released him. Hoyer thus represents a cap-friendly addition to New England's QB room, and one whose previous experience with the team is an obvious advantage. It's still possible that further depth is added at the position, but at the very least Hoyer currently represents an experienced alternate starting option should Stidham struggle on the field or suffer any injuries down the road.
March 23, 2020 9:13 AM EST
---
Brian Hoyer, Third stint with Patriots
Hoyer and New England agreed to terms on a contract Sunday, Jim McBride of The Boston Globe reports.
Analysis: Hoyer will head back to New England after spending two stints in 2010-11 and 2017-18, respectively. In four appearances for the Colts last season, the veteran completed 35 of 65 passes for 372 yards, four touchdowns and four interceptions. This is a great opportunity for the 34-year-old as the Patriots only have the inexperienced Jarrett Stidham and Cody Kessler currently on the roster.
March 22, 2020 12:27 PM EST
---