49ers Top Fantasy Players
These are the top fantasy football players of the San Francisco 49ers as ranked by Average Draft Position (ADP) in PPR-format mock drafts.
Data as of May 6, 2021.
George Kittle
George Kittle's current ADP is 2.05, which is the 5th pick of the 2nd round, and 17th selection overall.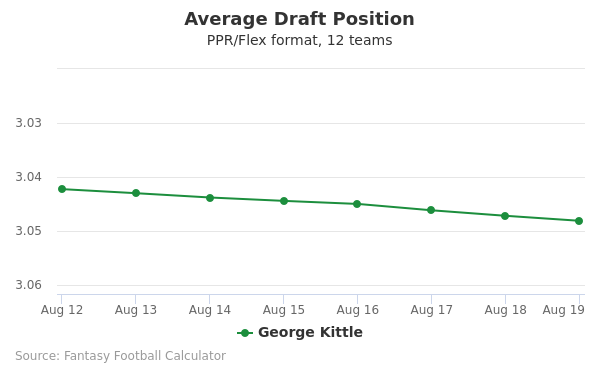 Raheem Mostert
Raheem Mostert's current ADP is 4.10, which is the 10th pick of the 4th round, and 45th selection overall.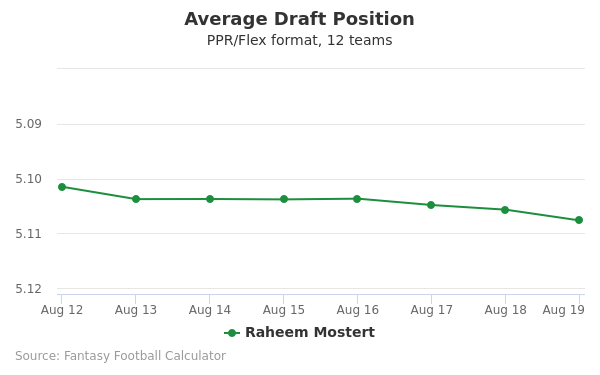 Brandon Aiyuk
Brandon Aiyuk's current ADP is 5.12, which is the 12th pick of the 5th round, and 60th selection overall.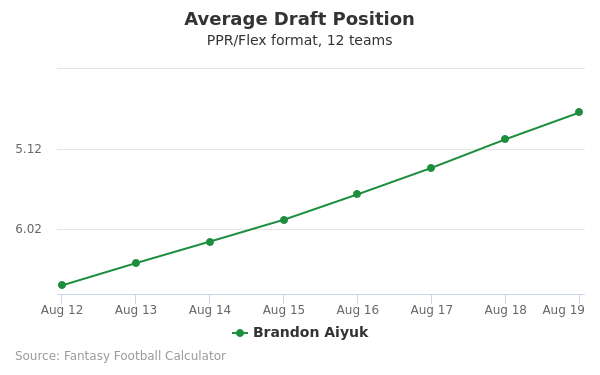 Deebo Samuel
Deebo Samuel's current ADP is 7.06, which is the 6th pick of the 7th round, and 78th selection overall.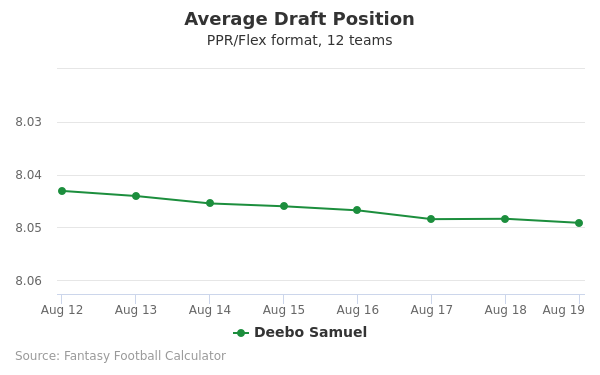 Jeffery Wilson
Jeffery Wilson's current ADP is 8.01, which is the 1st pick of the 8th round, and 84th selection overall.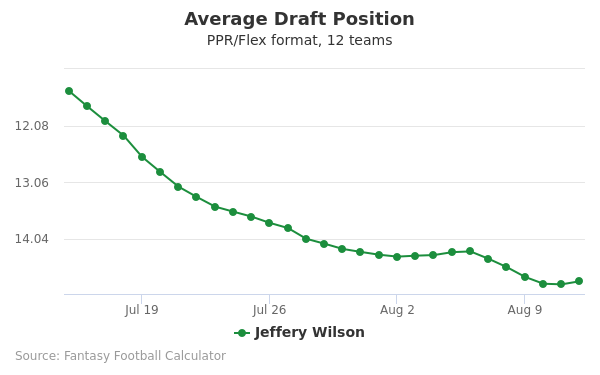 San Francisco Defense
San Francisco Defense's current ADP is 12.05, which is the 5th pick of the 12th round, and 137th selection overall.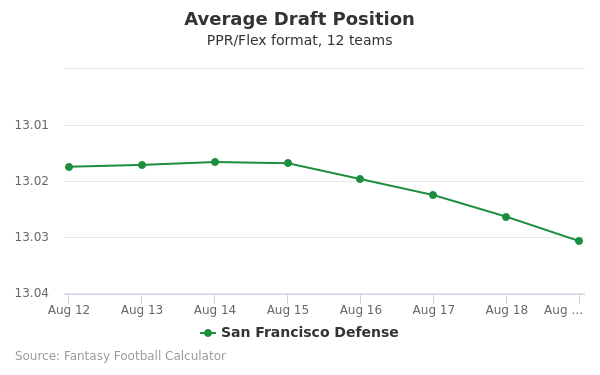 Wayne Gallman
Wayne Gallman's current ADP is 12.07, which is the 7th pick of the 12th round, and 139th selection overall.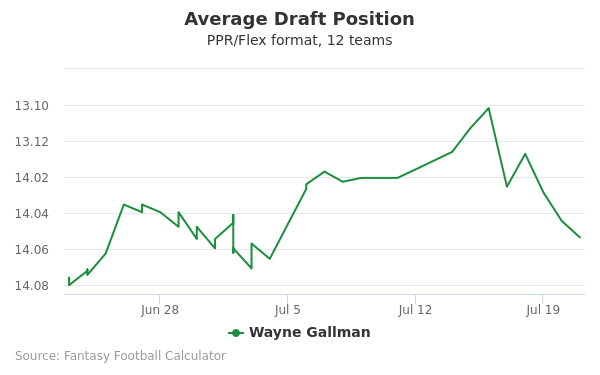 Jimmy Garoppolo
Jimmy Garoppolo's current ADP is 14.04, which is the 4th pick of the 14th round, and 160th selection overall.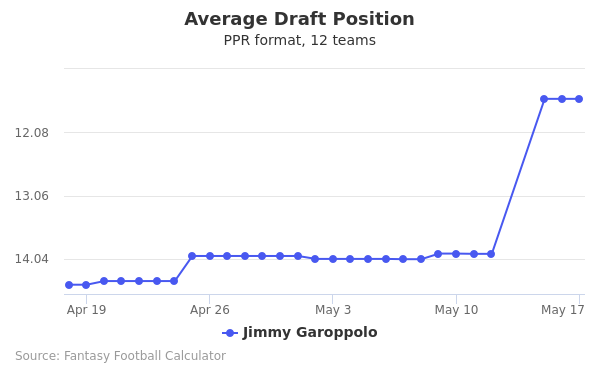 Chris Thompson
Chris Thompson's current ADP is 15.01, which is the 1st pick of the 15th round, and 168th selection overall.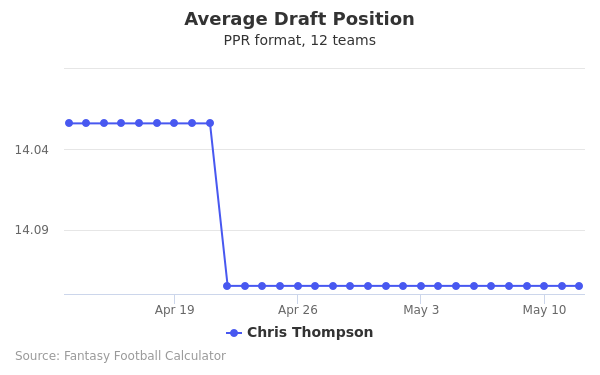 Robbie Gould
Robbie Gould's current ADP is 15.05, which is the 5th pick of the 15th round, and 173rd selection overall.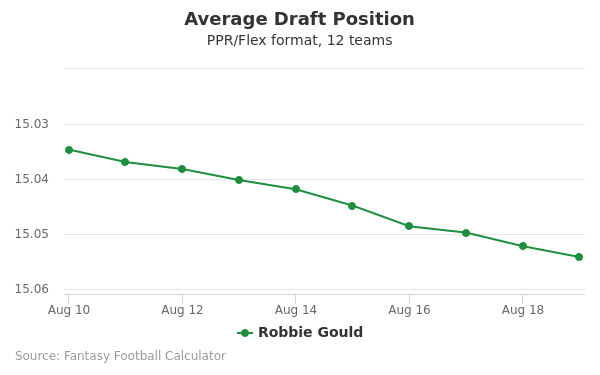 San Francisco 49ers 2020 Schedule
| Week | Home/Away | Opponent |
| --- | --- | --- |
| 1 | Home | Arizona Cardinals |
| 2 | Away | New York Jets |
| 3 | Away | New York Giants |
| 4 | Home | Philadelphia Eagles |
| 5 | Home | Miami Dolphins |
| 6 | Home | Los Angeles Rams |
| 7 | Away | New England Patriots |
| 8 | Away | Seattle Seahawks |
| 9 | Home | Green Bay Packers |
| 10 | Away | New Orleans Saints |
| 12 | Away | Los Angeles Rams |
| 13 | Home | Buffalo Bills |
| 14 | Home | Washington Redskins |
| 15 | Away | Dallas Cowboys |
| 16 | Away | Arizona Cardinals |
| 17 | Home | Seattle Seahawks |
San Francisco 49ers News
Blaine Gabbert, Back as Brady's backup
Gabbert re-signed with the Buccaneers on a one-year, $2.5 million contract Wednesday, Jeremy Fowler of ESPN.com reports.
Analysis: The Buccaneers continue their efforts to maintain an unchanging roster, bringing back Gabbert for another season as the No. 2 option behind Tom Brady. The 31-year-old's only action last season came in a Week 16 thrashing of the Lions, in the second half of which Brady went to the bench. Unless things take an unexpected turn for the defending Super Bowl champs during the 2021 campaign, Gabbert will once again be primed to only see limited action.
May 5, 2021 3:37 PM EST
---
Jimmy Garoppolo, Currently entrenched as starter
Coach Kyle Shanahan said Monday that Garoppolo "definitely is our starter right now" and that "there isn't a competition" between he and No. 3 overall pick Trey Lance, Cam Inman of The San Jose Mercury News reports.
Analysis: Shanahan called Garoppolo "a competitive dude" who he expects to benefit from "having someone to fire him up a little bit," while also denying reports that the 49ers are attempting to trade the 29-year-old. The coach also noted that he doesn't "believe Lance would be in a position to compete" when OTAs kick off, implying that the 20-year-old has a long way to go before pushing Garoppolo for the starting gig. Of course, Lance's draft pedigree all but guarantees he'll eventually get to showcase his talents under center, the only question being how long Garoppolo can hold him off. To that end, staying healthy will be just as crucial for Garoppolo as maintaining a quality level of play. The veteran signal-caller missed 10 games due to a high-ankle sprain last season, though Shanahan reiterated that he's since returned to full health.
May 3, 2021 1:41 PM EST
---
Jeff Driskel, Ousted from QB room
The Broncos released Driskel on Monday, Mike Klis of 9News Denver reports.
Analysis: Driskel threw three touchdowns and two interceptions in three appearances (one start) for the Broncos last season. Per Zac Stevens of TheDNVR.com, his release saves the team $2.5 million in cap space. Drew Lock, Teddy Bridgewater and Brett Rypien remain under contract for Denver.
May 3, 2021 1:17 PM EST
---
Tevin Coleman, Likely part of committee
Coleman is listed among the backups in the Jets running back depth chart put together by Tyler Calvaruso of USA Today.
Analysis: Coleman has familiarity with offensive coordinator Mike LaFleur's system, but Calvaruso believes Ty Johnson has the early upper hand in the crowded Jets backfield after his strong finish to the 2020 season. LaFleur likes to take a committee approach in the backfield, so Coleman will likely share the workload with Johnson, as well as rookie fourth-rounder Michael Carter and possibly La'Mical Perine or Josh Adams.
May 2, 2021 4:47 PM EST
---
Jalen Hurd, Could be ready for start of season
Head coach Kyle Shanahan stated that Hurd (knee) is progressing well and expects him to be ready for the 2021 campaign, Matt Maiocco of NBC Sports Bay Area reports.
Analysis: Hurd has had a terrible string of luck since being drafted in the third round of the 2019 NFL Draft, missing his entire rookie season with a back injury and then tearing his ACL at the start of training camp last year. The versatile football player -- can play wide receiver, tight end and potentially running back -- will have to establish an ability to stay healthy in order to crack the 53-man roster, but there is potential for carving out a unique role behind starters Brandon Aiyuk and Deebo Samuel following the departures of veteran wideouts Kendrick Bourne and Trent Taylor.
May 2, 2021 3:39 PM EST
---