Today we will jump in and review a recently completed 10-team PPR draft. Now is the time to complete mock drafts so you can see where current players are going compared to last year and watch how their ADP changes over the next few months with injuries, training camp, and other daily breaking news, including those who are opting out this season. Let's take a look at how this draft unfolded.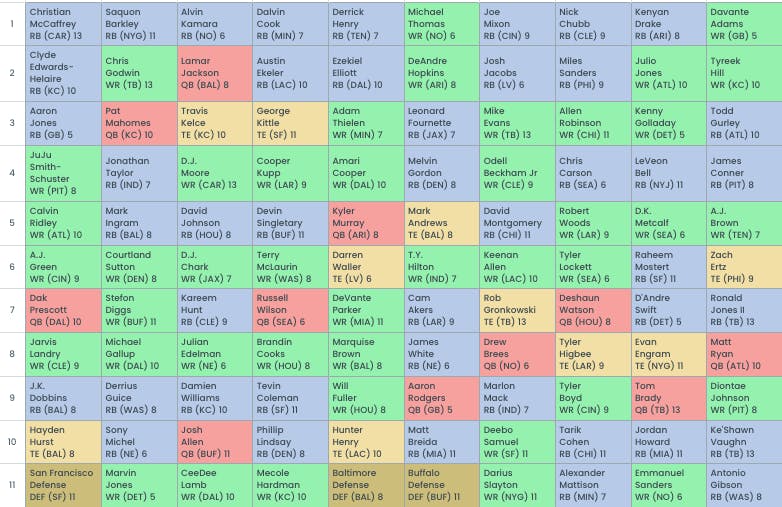 You can mock draft on your phone for free on iPhone and Android .
Round 1
Best Pick – Kenyan Drake – Pick 1.09
Kenyan Drake isn't being chosen in the first round in a lot of drafts I've seen, but when he is, I'm not mad about it. After taking over the Arizona backfield, Drake amassed 8 rushing touchdowns in as many games and saw over 4 targets per game in the receiving game over that span. With the Cardinals acquiring DeAndre Hopkins and Kyler Murray entering Year 2 in Kliff Kingsbury's fast-paced offense, Kenyan Drake could approach double-digit TDs while seeing 70-80 targets this season, making him more than worthy of a first-round pick.
Worst Pick – Derrick Henry – Pick 1.05
Henry has slid up draft boards over the past few weeks, and while I can see the argument for taking him in the early first round, I won't buy into it just yet. The efficiency which led them deep into the playoffs was more of a Cinderella Story fluke than anything, and I expect their win total and production as a team to regress this season. One thing Henry has going for him is that he has the entire backfield to himself, which is great for early-down and goal-line work, however, he only had 18 receptions all season. In a full-PPR league, I cannot get behind selecting him over RBs who will see much more volume along with a solid role in their teams' running game.
Round 2
Best Pick – Ezekiel Elliott – Pick 2.06
How does this happen in any draft? Zeke is an automatic pick after he slips to the 16th pick in this specific draft. In a PPR league, Zeke should be an automatic lock to finish top-5 if he remains healthy and should not get past the 1.05 in any league. His usage in the passing game, his high powered offense, as well as his elite offensive line, should have owners looking forward to the 2020 campaign.
Worst Pick – Josh Jacobs – PIck 2.04
Last year Josh Jacobs was the RB21 in full-PPR leagues. A big reason this was the case was not only because he played in 13 games, but because he only had 20 receptions on 27 targets. In a full PPR league, even with his rushing totals, you need a fair amount of receptions if you want to finish in the top-10. The pick here should have been Ezekiel Elliott who managed to slide down the board in this draft, or, if Zeke wasn't available, Austin Ekeler is the guy. Even with a downtick in production this season, he should finish higher than Josh Jacobs does this season due to his dual-threat ability in a league that values receptions so much.
Rounds 3 & 4
Best Pick – Todd Gurley – Pick 3.10
Todd Gurley has an ADP around the beginning of round 3 in a 10-team PPR league, and for him to drop to the end of the third round is a bargain. He's had another year to heal and he did better than people are giving him credit for, rushing for 857 yards and 12 touchdowns, while adding over 200 receiving yards and 2 scores through the air. He finished as the RB14 in PPR leagues last year and assuming Atlanta will use him more in the passing game where he can thrive, he should post similar, if not better, numbers than last season.
Worst Pick – Adam Thielen – Pick 3.05
Adam Thielen was limited to only 10 games last season due to nagging injuries but he was able to still score 8 total touchdowns (7 receiving, 1 rushing) throughout the season, and had a solid showing in the playoffs after securing 179 receiving yards in the Vikings' two playoff games. WIth Steffon Diggs off to Buffalo, Thielen undoubtedly has the WR1 role to himself. If he remains healthy he should perform well, but I wouldn't be selecting him over WRs like Kenny Golladay or Mike Evans, two receivers with much higher floors and ceilings than Theilen.
Rounds 5 & 6
Best Pick – David Johnson – Pick 5.03
David Johnson slid over a round past his ADP (4.01) in this draft after being selected with the 5.03, leaving us to wonder if he is being slept on this season. During his first 6 games of the season, before his injury and the Kenyan Drake acquisition, Johnson ran for 50 yards per game and scored 2 touchdowns on the ground, while also seeing heavy work in the receiving game, catching 30 passes for 315 yards and 4 touchdowns. While the rushing stats aren't what you like to see from a bell-cow running back, he more than makes up for it with his receptions and dual-threat ability. With the Texans this season, Johnson should have a healthy amount of touches in line with players being drafted a couple of rounds ahead of him. At this price, David Johnson is a must-have.
Worst Pick – A.J. Green - Pick 6.10
A.J. Green has only played a full 16-game season twice over the past 6 years. We know Green has the talent, but that is very concerning. We love to play for upside, but he just hasn't been able to stay healthy. He did not play any games in 2019 and he is now playing with a rookie QB in Joe Burrow. While still filling out your starting roster, I would avoid Green at all costs. If he does manage to fall several rounds past his ADP, only then I would take a gamble as a WR4 or WR5. In this draft, I would have rather picked any of the WRs that were selected in rounds 7 and 8.
Rounds 7 & 8
Best Pick – Jarvis Landry - Pick 8.10
In what was considered a "down" year for the Cleveland Browns, Jarvis Landry was one star that shone bright, reaching WR12 status in full-PPR leagues. With more optimism being put towards the Browns once again entering the season, it's mind-blowing that Landry is being drafted as the WR33 in this draft which matches his ADP currently. Besides an unforeseen injury occurring, there is no way Landry doesn't return a ton of value (especially in full-PPR leagues) at his current ADP.
Worst Pick – Brandin Cooks - Pick 8.07
The Texans traded the LA Rams for Brandin Cooks this offseason after they gave away DeAndre Hopkins to the Cardinals a month earlier, and I'm not thrilled with his outlook this season. Cooks only had 583 yards and 2 touchdowns in 14 games last season on the Rams, and Cooks' history with concussions is concerning. Watson's primary receiver now will be Will Fuller, and unless Fuller or Kenny Still gets injured, Cooks will have a WR2 role with a decent amount of upside. In a full-PPR league, where targets are king, give me Julian Edelman and Jarvis Landry over Brandin Cooks.
Rounds 9-11
Best Pick – Sony Michel – Pick 10.09
While Sony Michel is returning from a nagging foot injury and has been deemed questionable for Week 1 this season, as a late-round selection, he's a great pick. Since his status is up in the air for week 1, we obviously wouldn't want to take him as our RB2 or flex player, and as the RB5 on this team, the selection makes a ton of sense. It wouldn't be surprising for New England to run more with Tom Brady out of town last year Sony was able to run for 912 yards and 7 touchdowns. New England doesn't have a true in between the tackles runner and the only likely candidate to take away snaps from him is Damien Harris, but he was only given 4 carries in the 2 games he was active for.
Worst Pick – Antonio Gibson - Pick 11.10
When you're in your later rounds, you want upside. Antonio Gibson, a rookie, doesn't quite fit the bill. The Washington Football Team's backfield should be led by Derrius Guice, and with Adrian Peterson still on the roster, there are only so many touches to go around on a subpar team. Gibson will look to fill the Chris Thompson role of year's past, but with limited in-person team activities this season, will he be trusted to have a large role on the team? Gibson won't be a league winner and he'll likely just collect dust sitting on your bench, wasting a roster slot.
---
Filed under: Free Articles