Today we will jump in and review a recently completed 12-team PPR draft. With just over a week left before the season starts, now is the time to complete mock drafts so you can see where current players are going and monitor how players' ADP settles heading into your draft. Let's take a look at how this draft unfolded.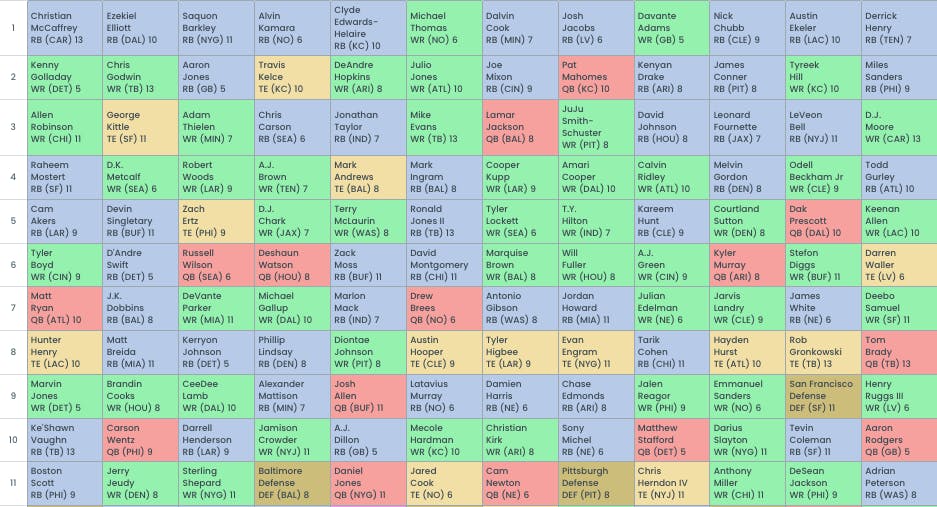 You can mock draft on your phone for free on iPhone and Android .
Round 1
Best Pick – Derrick Henry - Pick 1.12
This is a clear example of where PPR and non-PPR league draft strategy is taken too far. Derrick Henry should be a consensus top-8 pick in every single draft. I can see him sneaking inside of the top-5, but taking him with the 6-8 picks is more likely. Henry led the league in rushing yards (1,540) and was tied for the league lead in rushing touchdowns (16). The Titans are a run-first offense in a fairly weak division. Henry should be given a ton of touches again with favorable game scripts and all the goal-line work. With our first pick in our draft, we try to return first-round value. Henry has the ceiling for a top-3 finish and will undoubtedly return top-10 value again this season, even in PPR leagues where he doesn't have much of a floor in the receiving game.
Worst Pick – Josh Jacobs - Pick 1.08
Josh Jacobs has risen up draft boards by a few picks over the last couple of weeks and I'm not sure why. He was given a lot of touches during his rookie season, but he was absent in the passing game, receiving only 27 targets in the 13 games he played in. Jacobs finished as the RB15 in fantasy points per game in PPR leagues, but he fell to RB21 if we look at the fantasy season as a whole. While he could be more involved in the passing game this season, as we're led to believe from reports this offseason, it's not something I would risk my first pick on in this year's draft. He's a fine RB in the middle-to-late 2nd round, but there are several other players at RB and WR I would rather have on my team than Jacobs in 2020.
Round 2
Best Pick – Aaron Jones - Pick 2.10
Aaron Jones smashed his ADP last year and finished the year as the RB2 in all fantasy formats after scoring 19 total touchdowns and accumulating over 1,500 total yards. Everyone is screaming for regression this year in the TD department for Jones, which will happen, and are enamored with rookie A.J. Dillion's camp report (and pictures). Aaron Jones has a secure hold on the early-down work in the Green Bay backfield and is the third receiving option behind Davante Adams and Adam Lazard. Yes, Jones will not score 19 touchdowns again this season but it wouldn't surprise me if he crossed double-digit TDs fairly easily again given the offense and lack of weapons that Rodgers trusts. He'll be mixed in with the other RB options they have, but he'll separate from the pack like he did last season. If you can pair Jones with either Kamara, Zeke, Saquon, or CMC, you're off to a great start.
Worst Pick – Patrick Mahomes - PIck 2.05
Every mock draft I complete that is not a super flex, that is, where you're only starting 1 QB per week, the teams that choose QB early almost always have some sort of identifiable regret. They should have gone RB/WR due to the scarcity and drop-off at the position, but are lured in with the name value and previous season's statistics. Team 8 has a clear need at RB after finishing with Jordan Howard, Chase Edmonds, or Sony Michel as his RB2, or pray and hope for a waiver-wire pickup. Mahomes will be good this season, but giving up the opportunity to draft Joe Mixon or Aaron Jones instead in round 2 and still ending up with Tom Brady, Josh Allen, Aaron Rodgers, or many other startable QBs would have looked a lot better.
Rounds 3 & 4
Best Pick – Odell Beckham Jr. - Pick 4.02
If we look back at 2020 ADP and wonder why we were so down on one player based on recency bias after one down season, who would that be? That player would be OBJ, hands down. He's still being undervalued for a WR1 who is in his second year with his new offense and many don't want to be bit again, a year removed from him being a late-first / early-second round pick. The Browns have a win total of 8.5 this season and should be competitive in a tough division. They won't be able to squeak by teams and will be involved in a lot of high-scoring games. Beckham will surely score more than the 4 touchdowns he scored in 2019 and will continue to see north of 130 targets.
Worst Pick – Allen Robinson - Pick 3.01
Allen Robinson was great last year and finished as the WR8 in PPR leagues after Mitchell Trubisky peppered him with 154 targets. In the offseason, the Bears brought in Jimmy Graham and Anthony Miller has another year in the offense who will command more looks this season. What's yet to be determined is how quickly will Matt Nagy switch to their offseason acquisition Nick Foles to run the offense? Will Foles target Robinson like he's the only guy in the offense or will Foles spread it out more and take what the defense gives him? Robinson will still see a healthy amount of targets but to take him over other elite receivers such as Mike Evans and Adam Theilen, both of whom are on better offenses who will score more, are reaching a little too much.
Rounds 5 & 6
Best Pick – Keenan Allen – Pick 5.12
Keenan Allen finds himself without the same quarterback for the first time in his career and the general consensus is that his production is going to take a huge dive, which partially helps explain his two-round drop in ADP compared to last year. If you need a solid WR2 after maybe taking a more volatile WR1, Allen is your guy. He's never been one to score a ton of TDs, scoring 6 every year for the past 3 seasons, so he'll need to see a good amount of targets from Tyrod which I do think he will receive. The Chargers' defense has already started losing pieces, and the Chargers will be forced to pass much more if they are behind in a lot of games this season. As the WR1 on his team, I think Allen will at least match his TD total from last season if not surpass this, but will ultimately see fewer targets. At the end of the 5th round, you're not seeing the same amount of talent and opportunity as there is with Allen.
Worst Pick – A.J. Green - Pick 6.04
While we're in the sixth round we still need to add depth on our bench with running backs and wide receivers. We're still trying to avoid obvious risks if we can. Taking A.J. Green here, especially in front of his ADP (6.10) seems like an unnecessary risk, given that he has only played a full 16-game season twice over the past 6 years. Do we like his upside? Of course, but how many more seasons will we play the wishing game. He could return WR1/2 value but he also could miss half the season and disappoint. Unless he falls in your draft another couple of rounds I wouldn't take him, and in "home leagues" where names can be valued more than a player's production, it's unlikely he lasts until the 8th round.
Rounds 7 & 8
Best Pick – Jarvis Landry - Pick 7.10
I've talked a lot about Jarvis Landy heading into the season and both Browns' WRs happen to be good values this year in drafts. He finished as the WR12 in PPR leagues and is being taken in this draft as the WR34. We're now a week out from the beginning of the regular season and Landry has missed some practice time after having hip surgery in the offseason, but there hasn't been any indication that he will miss Week 1 by any means. It's worth monitoring over the next few days if anything further pops up, but Landry still remains a value, usually being chosen as your WR3-5.
Worst Pick – Deebo Samuel - Pick 7.12
Following up on the worst pick in the 6th round, we find ourselves discussing another player who is being drafted too high due to their injury. After breaking his foot earlier in the offseason, Deebo Samuel has been seen sprinting at practice this week which is encouraging, but there's a difference between just running and making cuts and running routes at full speed. Being optimistic about an injury only the team and Samuel know about themselves is very risky. I want to start Week 1 with the healthiest team possible. That includes taking players going after him with much better projections and health such as Diontae Johnson and Marvin Jones.
Rounds 9 - 11
Best Pick – Damien Harris – Pick 9.07
A few weeks ago we saw Sony Michel as a value in the 9th round, but I've changed my position on him after reports from beat writers for the Patriots are saying that Damien Harris has been the best running back during training camp. This is encouraging since Harris was only given 4 carries last season but with Newton being the (probable) starter in New England, if he can utilize Harris' skillset even just a fraction of how CMC was used in Carolina, Harris could be in store for a big season. While this may be wishful thinking, if Harris is the lead back handling early-down and goal-line work while adding in a handful of receptions per game, he can definitely provide RB2 value with upside for a lot more.
Worst Pick – Adrian Peterson - Pick 11.12
With the last pick in the 11th round, Team 12 selected Adrian Peterson from the Washington Football Team. This late in the draft, I think you should shoot for the moon with upside - drafting Adrian Peterson has very little upside at all given the committee he will be a part of and just how terrible Washington is expected to be this season. Peterson could supply his services for a bye week fill-in but really he's going to waste a spot on your bench every week and you will be somewhat hesitant to drop a "startable" running back. At this ADP, give me Tony Pollard, Duke Johnson, and even teammate Bryce Love who all offer more upside in PPR leagues.
---
Filed under: Free Articles