DeShone Kizer QB (GB)
DeShone Kizer Ineffective in third preseason game: Kizer completed 4 of 7 passes for 24 yards and ran once for six yards in Thursday's preseason loss to the Raiders. He did not throw any touchdowns and was intercepted once.
Fantasy impact: Kizer started the Packers' first two exhibition games, but fellow reserve quarterback Tim Boyle got that chance Thursday. Boyle played the entire first half and fared well, leading the Packers on three consecutive drives in the second quarter. Kizer, on the other hand, did not, failing to put any points on the board while turning the ball over once and taking three sacks. Boyle, as the first quarterback in, clearly had the opportunity to take the field with players higher on the depth chart; but the Packers held out nearly all their key players due to field conditions, so it wasn't a major difference. Kizer was seemingly the favorite to earn the backup job behind Aaron Rodgers heading into Thursday's contest, but the competition now seems wide open with one preseason game to go.
Kizer isn't currently being drafted in fantasy drafts right now.
Cam Newton QB (CAR)
Cam Newton Cautiously optimistic for Week 1: Newton was diagnosed Friday morning with a mid-foot sprain, leading Panthers general manager Marty Hurney to say he's "cautiously optimistic" the quarterback will be ready for Week 1, Jourdan Rodrigue of The Athletic reports.
Our take: Hurney is acknowledging the possibility of a regular-season absence, but he at least seems to believe Newton's injury isn't a long-term problem. The quarterback initially was thought to have hurt his left ankle, which previously required surgery in March 2014 and was sprained again last November. Despite getting good news from initial X-rays, Newton used a walking boot on his left foot after making an early exit from Thursday's preseason game against New England. The Panthers' backup QB situation suddenly comes under the microscope, with Kyle Allen, Will Grier and Taylor Heinicke all looking bad through the first three weeks of the preseason. Allen was the first man in after Newton in Thursday's contest, while Heinicke didn't play at all.
The fantasy value of Cam Newton is measured by his average draft position (ADP). The graph below shows how it's trending in the latest mock drafts . In recent drafts, Newton's current ADP is 8.06
Watch out to see if Newton's value changes in light of this update.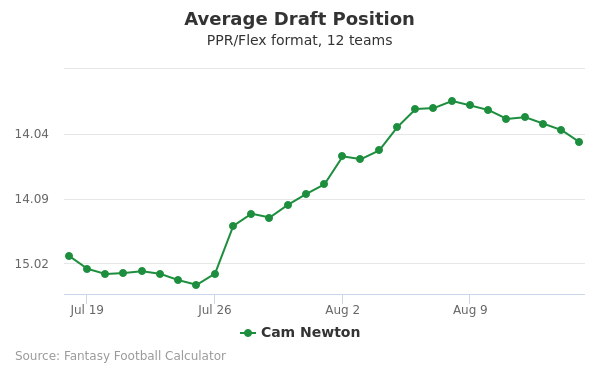 Gardner Minshew QB (JAX)
Gardner Minshew Locked in as backup QB: Minshew completed 17 of 27 passes for 141 passes with zero touchdowns, zero interceptions and a lost fumble in Thursday's preseason game against the Dolphins.
What it means: Starter Nick Foles made his first appearance of the preseason Thursday, but Minshew still saw extended action after taking over early in the second quarter. Despite another middling performance, Minshew has all but sewn up the Jaguars' backup quarterback job -- barring an outside acquisition -- after Tanner Lee was released last weekend. The 23-year-old should see plenty of reps in next Thursday's preseason finale versus the Falcons.
Minshew isn't currently being drafted in fantasy drafts right now.
Drew Lock QB (DEN)
Drew Lock May land on IR: Lock (thumb) may open the season on injured reserve, ESPN.com's Jeff Legwold reports.
Fantasy impact: Dealing with a severe thumb sprain on his throwing hand, Lock will miss the rest of the preseason and isn't expected to be ready for Week 1. He'll be ineligible for the entire season if the Broncos place him on IR before final roster cuts, while he can return for the second half of the campaign if he's kept on the initial 53-man roster. Either way, Kevin Hogan is in line to open the regular season as Joe Flacco 's backup.
Lock isn't currently being drafted in fantasy drafts right now.
Jacoby Brissett QB (IND)
Jacoby Brissett Won't play against Bears: Brissett won't play in Saturday's preseason game against the Bears, Zak Keefer of The Athletic reports.
Our take: With Andrew Luck (calf/ankle) uncertain for Week 1, the Colts won't take any chances with one of the better backup quarterbacks in the league. Other key players, including Marlon Mack and T.Y. Hilton, aren't expected to participate Saturday.
Brissett isn't currently being drafted in fantasy drafts right now.
News and analysis powered by RotoWire.
---
Filed under: Free Articles