Joe Flacco QB (FA)
Joe Flacco Undergoes neck procedure: Flacco (neck) has underwent a disc repair procedure in early April and is targeting clearance between late August and mid-September, Tom Pelissero of NFL Network reports.
Fantasy impact: Flacco doesn't have a clear path to a starting gig next season at this point, but he could serve as a valuable backup and potentially a mentor somewhere. If the NFL schedule remains on track, Flacco would be ready to roll right around the start of the 2020 campaign.
Flacco isn't currently being drafted in fantasy drafts right now.
Andy Dalton QB (CIN)
Andy Dalton Heading to Dallas: Dalton signed a one-year, $3 million contract with the Cowboys on Saturday, Adam Schefter of ESPN reports.
Our take: The 32-year-old was cut by the Bengals earlier in the week, and it only took a couple days for him to latch on with a new club, though he's clearly not signing as a starter. There was significant speculation of Dalton landing with a team lacking a proven quarterback, but the TCU product will return to Texas to serve as the backup for Dak Prescott .
Dalton isn't currently being drafted in fantasy drafts right now.
Mitch Trubisky QB (CHI)
Mitch Trubisky Not extended: Trubisky (shoulder) will not have his fifth-year option picked up, Tom Pelissero of NFL Network reports.
Fantasy impact: This shouldn't come as a major surprise given the Bears' offseason acquisition of Nick Foles . While the fifth-year, $24 million option would have only been guaranteed for injury, it's still a tremendous financial commitment to a quarterback that has failed to live up to his draft-day expectations. The Bears have hinted it's still an open competition between Foles and the 2017 No. 3 overall pick, even suggesting Trubisky will take the first snap of training camp, but the former Jaguar appears to be the front runner at the moment based on this latest transaction alone.
Trubisky isn't currently being drafted in fantasy drafts right now.
Dak Prescott QB (DAL)
Dak Prescott Contract length at issue: The Cowboys' latest contract offer to Prescott would reportedly make him the highest-paid player in the NFL, but the two sides have so far been unable to agree on the length of the deal, per Clarence Hill Jr. of the Star-Telegram.
Our take: The parameters currently being discussed would match the $35 million a season Russell Wilson is making, but while the Cowboys want the contract to run for at least five years to give them more roster stability and spread out the salary cap hit, Prescott's camp is asking for a four-year deal, presumably on the assumption that the market for his services is only going to become more favorable. With a July 15 deadline to get the QB under contract inching closer, expect the impasse to be broken sooner or later, although Jerry Jones has made a career out of waiting until the last minute to really ramp up negotiations. Until an agreement is reached, though, Prescott is choosing not to participate in the team's virtual offseason program.
It's possible to track the change in Dak Prescott's fantasy value over time by looking at where he's drafted. According to the latest PPR average draft position data, he's being drafted in at the 6.10 spot.
How much this impacts Prescott remains to be seen.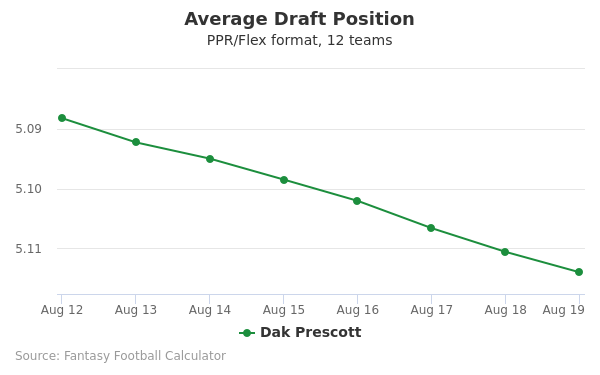 Jameis Winston QB (FA)
Jameis Winston Officially joins New Orleans: Winston (thumb) agreed to terms on a one-year deal with the Saints on Tuesday.
What it means: The Saints and Winston have been finalizing the contract over the last few days, and the deal is now official with the passing of Monday's deadline for signings factoring into the compensatory pick formula. The departure of Teddy Bridgewater this offseason would appear to open up the backup job for Winston, but he instead likely will be in competition for the job with holdover Taysom Hill. Even with an injury to Drew Brees , Winston isn't guaranteed to immediately lead the offense as Bridgewater did last season. However, spending a year under the tutelage of Brees and Sean Payton should still prove beneficial after the 2015 first-overall pick led the NFL with 30 interceptions in 2019.
Up until now, Jameis Winston has been drafted at the 10.02 in PPR leagues.
Keep an eye out on his value going forward.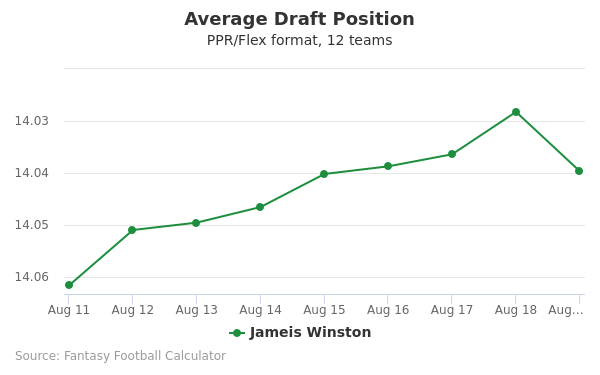 News and analysis powered by RotoWire.
---
Filed under: Free Articles