Ricky Seals-Jones TE (ARI)
Ricky Seals-Jones Available during offseason workouts: Seals-Jones (neck) was an active participant in the Cardinals' offseason program, Bob McManaman of The Arizona Republic reports. "We're doing a lot of rotating and just trying to put the pieces together," Seals-Jones said during OTAs. "Coach (Kliff Kingsbury) is throwing everybody in and just seeing what everybody can do, from the vets to the rookies."
Our take: After the signing of Charles Clay early in the offseason, the Cardinals extended an exclusive rights tender to Seals-Jones in March, thereby rounding out the top of the tight end depth chart. Seals-Jones has displayed pass-catching acumen in his two-year career, reeling off 11.8 YPC and four TDs on his 46 receptions. On his third go-around, he'll have to get in the good graces of another coach-quarterback combo, but at least he has experience with 2019 first overall pick Kyler Murray, as the two were teammates at Texas A&M; in 2015. If Seals-Jones can gain a better part of the TE snap share this season, he may finally break through in what's expected to be a high-tempo offense that features three- and even four-wide sets.
Seals-Jones isn't currently being drafted in fantasy drafts right now.
Isaac Nauta TE (DET)
Isaac Nauta Tending to injury: Nauta (undisclosed) has been working through a rehab regimen during spring workouts, Tim Twentyman of the Lions' official site reports.
Fantasy impact: It isn't clear what sort of injury Nauta is tending to, or if he entered the league with the injury. If the latter is true, it may explain why he fell to the seventh round of April's draft. In any case, Nauta's limitations during spring workouts aren't the ideal way to begin his professional career -- especially with Logan Thomas , a college quarterback, making strides in his development. Nauta seemingly has more upside than Thomas, though, and it wouldn't be a shock if the Georgia product lays claim to the No. 3 role prior to Week 1.
Nauta isn't currently being drafted in fantasy drafts right now.
Michael Roberts TE (FA)
Michael Roberts Claimed by Green Bay: The Packers claimed Roberts off waivers Monday, Chris Burke of The Athletic reports.
Fantasy impact: The Lions tried trading Roberts to the Patriots last week for a conditional seventh-round draft pick, but the transaction fell through due to unspecified reasons and the Lions ultimately waived the tight end before the weekend. Now with the Packers, Roberts finds himself within another crowded depth chart topped by Jimmy Graham , Marcedes Lewis and third-round rookie Jace Sternberger. Roberts will likely need to string together an impressive training camp and preseason in order to crack the 53-man roster ahead of Week 1. In 23 games for Detroit over the past two seasons, Roberts caught 13 of 27 targets for 146 yards and three touchdowns.
Roberts isn't currently being drafted in fantasy drafts right now.
Mark Andrews TE (BAL)
Mark Andrews Stands out during offseason: Andrews made "a ton of plays" during offseason practices, looking bigger, stronger and faster than he was last year, according to Jeff Zrebiec of The Athletic.
What it means: The 256-pound tight end already provided ample evidence of his athleticism, averaging 11.0 yards on 50 targets last season after running a 4.67 40-yard dash at the combine. He served as the receiving threat in a timeshare during his rookie campaign, lining up as an in-line tight end for 174 of his 444 snaps (39.2 percent), while Nick Boyle (74.1 percent) and Hayden Hurst (56.1 percent) handled more traditional TE roles. Andrews still appears stuck in the same timeshare, but he'll likely take on a few more snaps and also figures to draw the target on a higher percentage of his snaps (if the Ravens have any idea what they're doing). He was the only Baltimore pass catcher to thrive after Lamar Jackson took over last season, with John Brown, Willie Snead and Michael Crabtree all falling off a cliff once Joe Flacco was benched. Brown and Crabtree have since been replaced by rookies Marquise Brown (foot) and Miles Boykin (hamstring), both of whom missed most of the offseason program. Andrews is a real threat for the team target lead, albeit in a run-heavy offense.
The fantasy value of Mark Andrews is measured by his average draft position (ADP). The graph below shows how it's trending in the latest mock drafts . In recent drafts, Andrews's current ADP is
How much this impacts Andrews remains to be seen.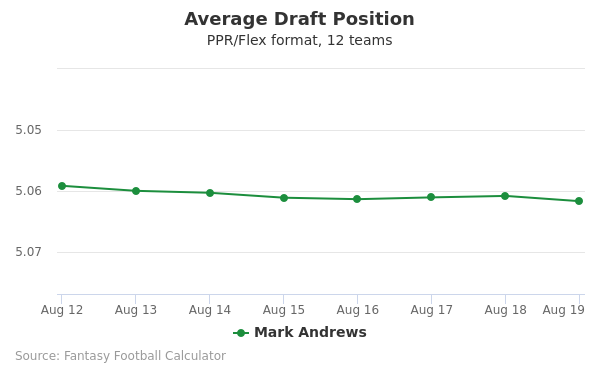 Ian Thomas TE (CAR)
Ian Thomas Still not practicing: Thomas (leg) was limited to rehab work during mandatory minicamp, Joe Person of The Athletic reports.
What it means: Thomas rode a stationary bike on the sideline while watching his teammates practice. There hasn't been any suggestion of a serious injury, with coach Ron Rivera saying he's hopeful the second-year pro will be ready for training camp. Thomas averaged four catches for 37 yards on six targets in six starts last season, typically handling a three-down role when Greg Olsen wasn't available. The 34-year-old is healthy and now has clearance for all football activities, but his recent history of foot injuries hints that Thomas may be needed this season.
Thomas isn't currently being drafted in fantasy drafts right now.
Rico Gathers TE (DAL)
Rico Gathers Suspended one game: Gathers will be suspended without pay for Week 1 of the 2019 regular season, Tom Pelissero of NFL.com reports.
Our take: The 25-year-old tight end is facing discipline for a violation of the NFL's policy on substances of abuse. Gathers picked up some steam in the preseason a couple years ago, but he struggled with concussion symptoms throughout the 2017 campaign and then finished 2018 with only three receptions. A suspension won't help his chances to stick around on the 53-man roster for another year.
Gathers isn't currently being drafted in fantasy drafts right now.
Gerald Everett TE (LAR)
Gerald Everett Stands out at offseason program: Everett made a strong impression throughout the offseason program, including an emphasis on improving as a blocker, Clarence Dennis of the Rams' official website reports. "I think the game's slowing down for [Everett]," coach Sean McVay said. "He's playing with some patience, he's got great aggressive hands where he can step to the football. I think you're just seeing a guy gain confidence, gain experience."
What it means: Already the team's best pass-catching threat at tight end, Everett should push for Tyler Higbee's starting job if he narrows the gap in blocking ability. The 2017 second-round pick came on strong in the second half of last season, with 23 of his 33 receptions and all three of his touchdowns occurring in a seven-week span during November and December. The Rams used more two-TE formations during that stretch in an effort to compensate for the absence of Cooper Kupp (knee), who tentatively is expected back for Week 1 of 2019. It's difficult for the Rams tight ends to account for more than a handful of targets per game when Kupp, Brandin Cooks, Robert Woods and Todd Gurley all are available.
Everett isn't currently being drafted in fantasy drafts right now.
News and analysis powered by RotoWire.
---
Filed under: Free Articles