Two years ago, Brandon Marshall had his best year as a pro in a Ryan Fitzpatrick led passing attack at age 31. Unfortunately for him, it was not made to last as Marshall battled injuries, and a completely stagnant Jets offense led to his worst year as a Pro in 2016. He registered only 59 catches and under 800 yards. With his contract up, and the Jets in full rebuild mode, it was time for a change of scenery.
That change came in the form of a 2 year, $12 million deal with the New York Giants. And while the distance traveled to his new team was minimal, the change in fantasy outlook for Marshall has been drastic.
The graph below shows his rise in fantasy football ADP over the past month. Data is from 12-team standard mock drafts.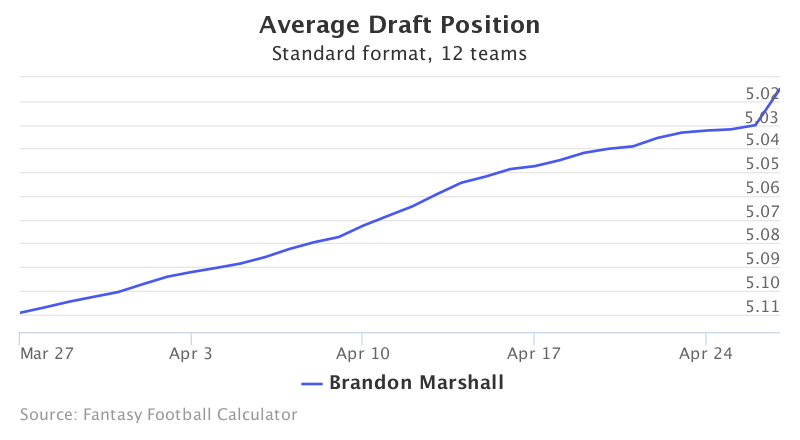 It's tough to project how other teams would have impacted his value, but the Giants seem to be one of the most fantasy productive spots that he could have landed. Since the signing, Marshall's value has increased by an entire round and continues to climb. He has already leap-frogged Kelvin Benjamin and Julian Edelman in draft position and is gaining on Jarvis Landry.
There is good reason for this rise. While the Giants already have a superstar in Odell Beckham Jr and a budding prospect in Sterling Shepard, there is plenty of room for another playmaker. Ben McAdoo operates largely out of a three wide receiver set, meaning you don't need to project who will be the number two wide receiver. All three will be on the field the majority of the time.
In addition, the Giants are a much more prolific passing team then the Jets, although it's hard not to be. The Giants averaged 4 more pass attempts and completions per game and a full 30 yards more than the Jets did in 2016. Also, the Giants were especially pass happy down the stretch averaging 45 attempts a game over their final 4 games. Replacing Victor Cruz with Brandon Marshall certainly isn't going to discourage them from airing it out.
The rise in ADP shows that many people expect a bounce back campaign from Marshall. Age and injuries are obviously a concern, but the ample targets as well as the promise of plenty of fade routes means that Marshall should have a solid floor in 2017. Look for his ADP to continue to rise into the fourth round resulting in a WR2 status.
---
Filed under: Free Articles