Wide receivers are critical in fantasy football.
A good fantasy roster is deep in pass catching talent, especially in PPR leagues.
These 10 players are the latest ones in the news.
Use this information to help start the right players, monitor the waiver wire and identify trade targets.
Taylor Gabriel WR (CHI)
Taylor Gabriel Hoping to build on career year: Gabriel has improved his connection with Mitchell Trubisky this offseason,
Fantasy impact: Not only was Gabriel learning a new offense last year, he also was working with Trubisky for the first time, but that didn't stop Gabriel from posting a career-high 67 receptions and 688 yards, though he topped 33 yards just once over the last five games of the season. He'll be playing in an offense loaded with weapons, so even though his chemistry with his quarterback is improving, he may struggle to see much of an increase on the 93 targets he saw in 2018. Overall, he could have a few big weeks, mostly due to his explosive speed, but it won't be surprising if he has quite a few weeks in which he's held in check, making him a better draft pick in best-ball leagues.
Gabriel isn't currently being drafted in fantasy drafts right now.
Tyreek Hill WR (KC)
Tyreek Hill To meet with NFL investigators: Hill will meet with NFL investigators this week, Terez A. Paylor of Yahoo Sports reports.
Our take: Hill has been suspended from all team activities since late April, with the Chiefs seemingly waiting for the NFL to come to a decision before taking any action. The forthcoming meeting between Hill and NFL investigators suggests that a ruling is drawing near, and some light should soon be shed on the 25-year-old's situation for the 2019 season. It remains a distinct possibility that the league could hand the Pro Bowl wideout a suspension.
The fantasy value of Tyreek Hill is measured by his average draft position (ADP). The graph below shows how it's trending in the latest mock drafts . In recent drafts, Hill's current ADP is 4.05
Keep an eye out on his value going forward.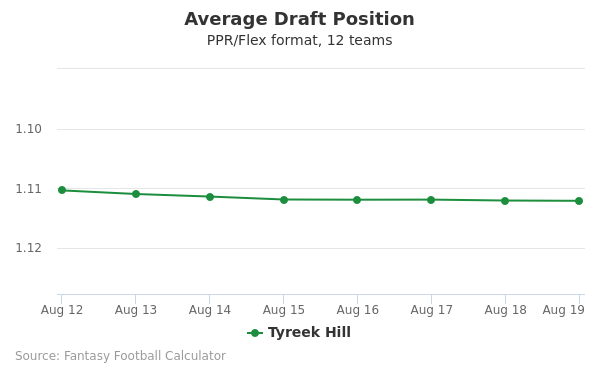 Scott Miller WR (TB)
Scott Miller Impressing this offseason: Miller was one of the standout performers of minicamp earlier in June, Carmen Vitali of the team's official site reports.
Fantasy impact: The rookie sixth-round pick was facing an uphill battle for a roster spot from the moment he was drafted, but that's hardly fazed Miller. Instead, the speedy Bowling Green product followed up some solid performances throughout OTAs with a noteworthy body of work during minicamp, with Vitali reporting that the 5-foot-9 Miller surprisingly lined up all over the field and repeatedly made tough catches in traffic out of the slot. The inside routes in the Buccaneers' passing game used to be the domain of Adam Humphries (free agency-Titans), but Miller has apparently staked early claim to serious consideration for at least some of the departed receiver's offensive and punt-return reps. Miller will battle the likes of Justin Watson and Bobo Wilson for positioning on the latter portion of the receiver depth chart, with training camp and preseason likely to go a long way toward sorting matters out.
Miller isn't currently being drafted in fantasy drafts right now.
Miles Boykin WR (BAL)
Miles Boykin Will be counted on as rookie: Boykin (hamstring) is expected to have a key role in Baltimore's passing game as a rookie, Mike Preston of The Baltimore Sun reports.
What it means: The Ravens selected Boykin and Marquise Brown with two of their first three picks in this year's draft, acknowledging that they needed a major overhaul at receiver. Both Boykin and Brown were limited at minicamp due to injury, and according to Preston, their absence exposed the team's lack of talent at the position and painted a bleak picture of what the receiving corps would look like without them. Boykin, a big-bodied possession receiver with 4.42 speed, is expected to be a chain-mover and red zone target in the offense once healthy. He will need to be a quick study in training camp to make up for the time lost to injury, however.
Boykin isn't currently being drafted in fantasy drafts right now.
Allen Robinson WR (CHI)
Allen Robinson Enjoys healthy offseason: Robinson was healthy throughout the offseason program, JJ Stankevitz of NBC Sports Chicago reports.
What it means: Robinson's first offseason in Chicago was devoted to rehabbing from the ACL tear he suffered in Week 1 of 2017. As is often the case in a player's first year back from major surgery, Robinson struggled with both health and consistency in 2018, missing three games with injuries (groin, rib) and falling shy of 50 yards in five others. He finally looked like the best version of himself by the end of the campaign, posting a 6-85-1 receiving line in his last regular-season game and a 10-143-1 line in a playoff loss to Philadelphia. Now benefitting from a normal offseason and a second year in the same scheme, Robinson is well positioned to take a step forward in his age-26 campaign, though he's unlikely to return to his peak volume from 2015-16 in Jacksonville (153 and 151 targets). The Bears have a solid group of secondary pass-catching options, and their excellent defense should lead to some weeks where they don't need much volume from Mitchell Trubisky.
The fantasy value of Allen Robinson is measured by his average draft position (ADP). The graph below shows how it's trending in the latest mock drafts. In recent drafts, Robinson's current ADP is 7.09
Watch out to see if Robinson's value changes in light of this update.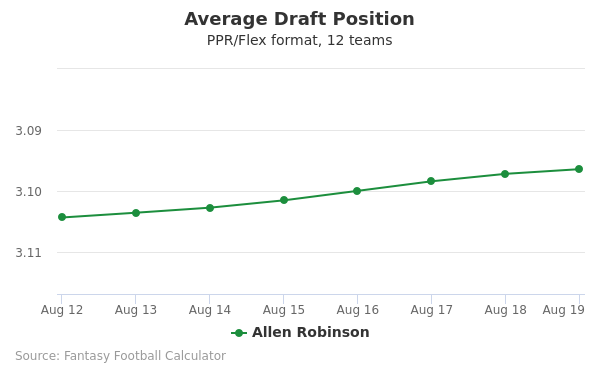 Devin Funchess WR (IND)
Devin Funchess Making good impression: Coach Frank Reich said he was pleased with what he saw from Funchess during the offseason program, while Kevin Bowen of 1070 The Fan believes the wide receiver was inconsistent during the handful or practices open to the media.
Our take: Benched by Carolina down the stretch last season, Funchess bounced back strong with a one-year, $10 million contract from Indianapolis at the very beginning of free agency. Reich said he urged his front office to sign Funchess, noting that the 25-year-old shows impressive quickness and route-running skill for a wideout his size. Reich doubled down on the positive evaluation last week, specifically pointing to Funchess' quick grasp of the offensive scheme, and then rehashing the compliments about his route running, size and body control. Some of the inconsistency during spring practices might be attributed to quarterback Jacoby Brissett, who filled in with the starting offense while Andrew Luck recovered from a calf injury. There hasn't been any hint of Funchess needing to compete for the No. 2 receiver job, but there's no guarantee the role comes with a high volume of targets, as the Colts also want to find regular touches for multiple running backs and tight ends.
The fantasy value of Devin Funchess is measured by his average draft position (ADP). The graph below shows how it's trending in the latest mock drafts. In recent drafts, Funchess's current ADP is 12.10
Watch out to see if Funchess's value changes in light of this update.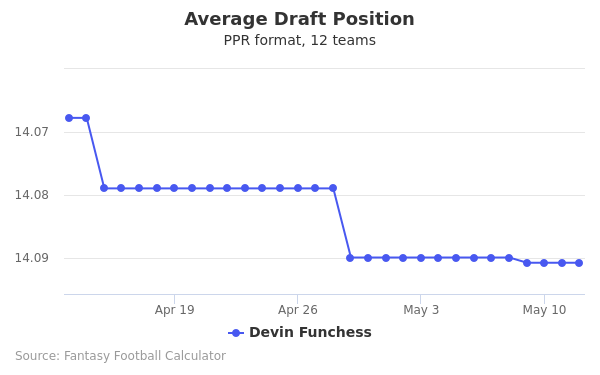 Keenan Allen WR (LAC)
Keenan Allen Returns healthy: Allen participated in the Chargers' offseason program, Ricky Henne of the team's official website reports.
Our take: Allen didn't appear to have any offseason limitations after suffering a knee bruise at the Pro Bowl in January. He's locked in as the top receiving weapon in an efficient offense, but even with Tyrell Williams leaving for Oakland, the Chargers have a deep group of skill-position players that demand touches. Mike Williams and tight end Hunter Henry both are popular breakout candidates for good reason, while Melvin Gordon and Austin Ekeler form one of the better backfield duos in the NFL. Allen will always be a priority, but the current situation hints at a repeat of his 2018 volume (136 targets) rather than a return to the 2019 level (159). He still finished 12th among wide receivers in targets last season, and the addition of some rushing stats -- nine carries for 75 yards -- was a useful new trick.
Up until now, Keenan Allen has been drafted at the 2.12 in PPR leagues.
How much this impacts Allen remains to be seen.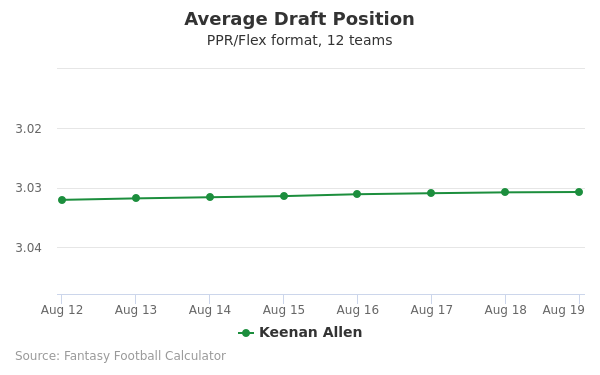 Marvin Jones WR (DET)
Marvin Jones Did not practice in OTAs: Jones (knee) did not practice in summer OTAs, Dave Birkett of the Detroit Free Press reports.
What it means: Jones spent the majority of his time working to rehab from a knee injury that put the 29-year-old wideout on injured reserve in late November. The Lions brought in two veteran receivers, Danny Amendola and Jermaine Kearse , in the offseason, but neither should threaten Jones' status as the No. 2 option behind Kenny Golladay (chest) should he return to full health.
Up until now, Marvin Jones has been drafted at the 9.05 in PPR leagues.
Keep an eye out on his value going forward.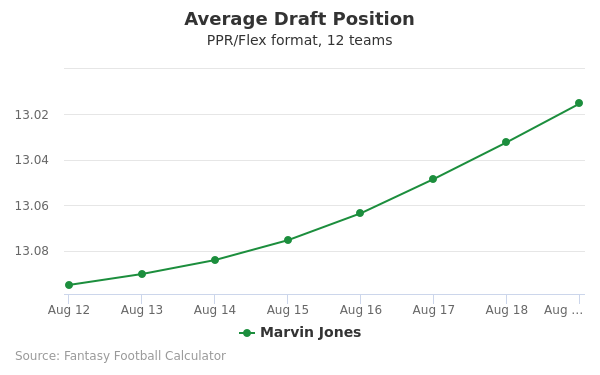 Demarcus Robinson WR (KC)
Demarcus Robinson Gaining offensive responsibilities: Robinson has upped his offensive responsibilities this offseason, Nate Taylor of The Athletic reports.
Our take: This shouldn't come as a major surprise with Tyreek Hill unavailable due to an indefinite suspension. Although he was just lightly involved in the offense last postseason, Robinson seems the most likely candidate to step in early in the season should Hill miss time. Taylor notes that rookie Mecole Hardman 's role will likely expand as his understanding of the offense grows, which may eventually carve into Robinson's snaps. As long as Robinson is in the starting lineup for the Patrick Mahomes-led Chiefs, he may be worthy of consideration in deep season-long leagues and in daily formats.
Robinson isn't currently being drafted in fantasy drafts right now.
Sammy Watkins WR (KC)
Sammy Watkins Stars in offseason program: Watkins performed well in the Chiefs' offseason program, Nate Taylor of The Athletic reports.
What it means: In the absence of Tyreek Hill, who is indefinitely suspended from team activities, it may fall on Watkins to lead the Chiefs' wide receiver group. He's no stranger to being the head of the class at his position; the 26-year-old wideout held that role with the Bills during the majority of his tenure with the team. If he can stay healthy, Watkins figures to be the primary target of Patrick Mahomes while Hill is unavailable, and Watkins has flashed the ability to be just that in the past, racking up 1,047 receiving yards and nine touchdowns in 2015. However, he has had issues staying healthy, playing the full 16 games just once, his rookie season back in 2014. That likely remains the biggest concern for Watkins entering 2019, but he looks to be off to a good start.
It's possible to track the change in Sammy Watkins's fantasy value over time by looking at where he's drafted. According to the latest PPR average draft position data, he's being drafted in at the 6.01 spot.
How much this impacts Watkins remains to be seen.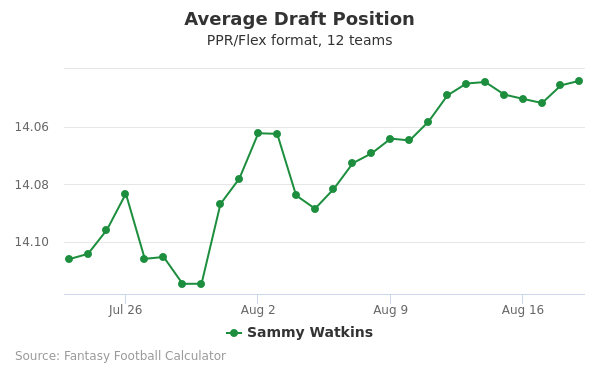 News and analysis powered by RotoWire.