Wide receivers are critical in fantasy football.
A good fantasy roster is deep in pass catching talent, especially in PPR leagues.
These 5 players are the latest ones in the news.
Use this information to help start the right players, monitor the waiver wire and identify trade targets.
Michael Crabtree WR (ARI)
Michael Crabtree Listed atop depth chart: Crabtree is listed as a starter on the Cardinals' first depth chart for the regular season, Darren Urban of the Cardinals' official site reports.
Fantasy impact: This is a good time to point out that depth charts are created by a team's communications/PR department, not the football staff. To that end, coach Kliff Kingsbury said last week that he wasn't sure if Crabtree would be ready for the regular-season opener Sunday against the Lions. The depth chart doesn't give us an answer, but the decision to keep Crabtree on the 53-man roster suggests he'll eventually have a role on offense, considering he's never been a factor on special teams. Larry Fitzgerald and Christian Kirk are the other starting wide receivers on the depth chart, with KeeSean Johnson, Trent Sherfield and Damiere Byrd listed as second-stringers. Rookie second-round pick Andy Isabella checks in at the very bottom.
Crabtree isn't currently being drafted in fantasy drafts right now.
Julio Jones WR (ATL)
Julio Jones Bracing for new deal: The Falcons have more cap space available for Jones (foot) after they converted base salary to signing bonus on the contracts for LT Jake Matthews and S Ricardo Allen, Mike Garafolo of NFL Network reports.
Fantasy impact: It's another hint the team plans to sign Jones to a new contract by the end of the week -- an expectation owner Arthur Blank relayed Tuesday. Jones' limited participation throughout the offseason program and training camp may have just been a precautionary measure to reduce the likelihood of complications with his oft-injured right foot. He took part in Monday's practice, seemingly gearing up for an appearance in Sunday's season opener in Minnesota.
Up until now, Julio Jones has been drafted at the 1.10 in PPR leagues.
Watch out to see if Jones's value changes in light of this update.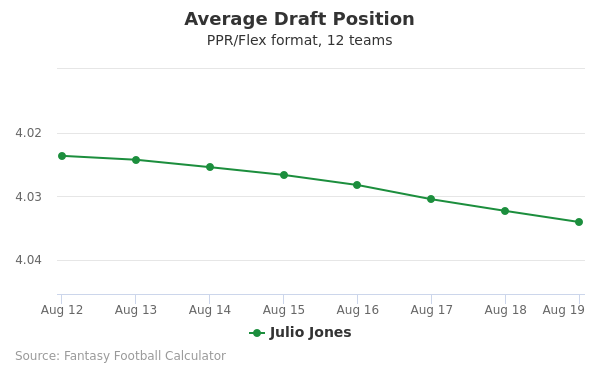 Zay Jones WR (BUF)
Zay Jones Listed as starter: The Bills are listing three starters on their first unofficial depth chart for the season -- Jones, John Brown and Cole Beasley , Jay Skurski of The Buffalo News reports.
Our take: The team will run three wideouts for much of the campaign, so there's playing time to be had for all three players. However, it'll be interesting to see who gets pulled off the field the most when the Bills run power sets or use multiple tight-end packages. Each wideout offers something unique from the other of his teammates, so it could turn into a situation where each player plays about 70-80 percent of the game but is quasi-capped. If any of the three is going to inch toward 100 percent, it's probably Beasley, given his value in the slot and as a security blanket for Josh Allen. The one takeaway from this summer is that Robert Foster has clearly taken a back seat in the pecking order, when at one point Jones looked to be competing with him for depth chart positioning.
Jones isn't currently being drafted in fantasy drafts right now.
Deon Cain WR (IND)
Deon Cain Listed as No. 3 or No. 4 WR: Cain is listed as the 3rd or 4th wide receiver on Indianapolis' first depth chart of the season.
What it means: Can had an outstanding preseason (12 receptions for 169 yards) in his first action since returning from a torn ACL in August 2018. This could reflect that he'll have a larger role in the offense than expected, but the No. 3 to No. 6 roles in the Indy offense may be in flux and those roles may not see as many targets with the move to Jacoby Brissett from Andrew Luck at quarterback.
Cain isn't currently being drafted in fantasy drafts right now.
Chester Rogers WR (IND)
Chester Rogers Not listed as third receiver: Rogers is listed as the 5th or 6h wide receiver on Indianapolis' first depth chart of the season.
What it means: Rogers was seen as the No. 3 receiver all during training camp and the preseason, so this listing is a surprise. It may say more than the No. 3 to No. 6 role are in flux more than Rogers has lost the job. However, the No. 3 receiver may not have as much value with Jacoby Brissett at quarterback as the Colts could move to more two-TE sets. Still, Rogers carries more risk heading into Week 1 with this depth chart listing.
Rogers isn't currently being drafted in fantasy drafts right now.
News and analysis powered by RotoWire.
---
Filed under: Free Articles