Tyler Boyd
Cincinnati Bengals
Wide Receiver #83
Cincinnati Bengals
Wide Receiver #83
Photo: Icon Sportswire
Personal
| | |
| --- | --- |
| Age | 26 |
| Birthdate | November 15, 1994 |
| Height | 6'1" |
| Weight | 197 lb |
Draft
College
Pittsburgh
Year
2016
Pick
Round: 2, Overall: 55
Team
CIN
Fantasy Value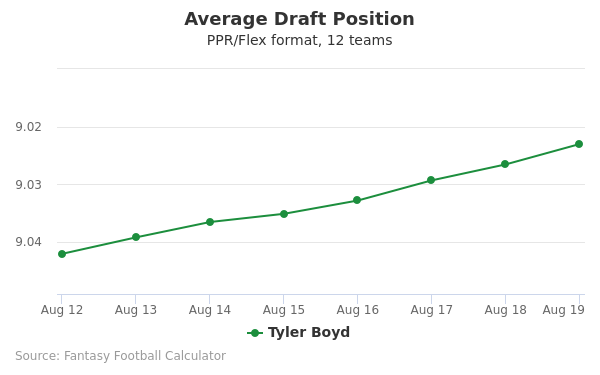 The code below will display a graph that updates every day to show the ADP data for Tyler Boyd for the past 30 days in 12-team PPR leagues.
You may use this graph on your website for free with a link back to this page for attribution.
Player News
Tyler Boyd: Ends season on disappointing note
Boyd recorded one reception on three targets for one yard in Week 17 against the Ravens. He added one rush for 11 yards.
Analysis: Boyd was weighed down by the Bengals' lack of offensive firepower, as Brandon Allen completed only six passes in the entire game. After racking up 69 receptions for 710 yards across the first ten contests of the season with Joe Burrow (knee) under center, Boyd managed only seven receptions for 116 yards across the final six weeks due to missed games from a concussion and inconsistent quarterback play. Boyd is in the midst of a four-year contract and should be a top playmaker for the Bengals in 2021.
Jan. 3, 2021 4:29 PM EST
Player Stats
YEAR
TM
GM
Receiving
Rushing
REC
TGT
%
YDS
TD
YPC
ATT
YDS
YPC
TD
FUM
Recent Articles
Just like that, the fantasy season has come and gone, but over this past week, we had a ton of great performances. In this week's...
Read more »
January 5, 2021. Premium
So far, injuries continue to overshadow the Covid-19 situation during the 2020 season. With a number of stars already out for the season...
Read more »
December 26, 2020. Premium
December 26, 2020
Premium
Week 13 was pretty much the exact opposite of Week 12, with very few injuries and very few COVID outbreaks.  After a week of a lot of...
Read more »
December 7, 2020. Premium
Who Should You Start?
Who Should You Draft?