Wil Lutz
New Orleans Saints
Place Kicker #3
New Orleans Saints
Place Kicker #3
Photo: Icon Sportswire
Personal
| | |
| --- | --- |
| Age | 26 |
| Birthdate | July 7, 1994 |
| Height | 6'0" |
| Weight | 190 lb |
Draft
College
Georgia State
Year
2016
Pick
UDFA
Team
BAL FA
Fantasy Value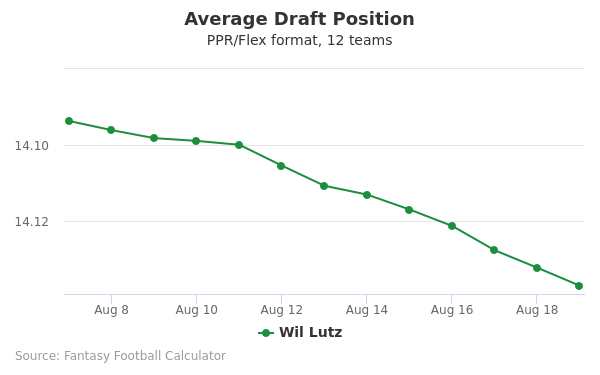 The code below will display a graph that updates every day to show the ADP data for Wil Lutz for the past 30 days in 12-team PPR leagues.
You may use this graph on your website for free with a link back to this page for attribution.
Player News
Wil Lutz: Agrees to restructure
Lutz agreed to re-work his contract with the Saints on Thursday, Luke Johnson of NOLA.com reports.
Analysis: The Saints will reportedly save $1.7 million in cap space by spreading some of the money owed to Lutz into future years. Lutz wrapped up 2020 with a career-worst 82.1 field goal percentage, which sets 2021 up to be a pivotal year for him.
Mar. 4, 2021 3:18 PM EST
Player Stats
YEAR
TM
GM
Kicking
FGM
FGA
FG%
EPM
EPA
EP%
Recent Articles
Learn more about every fantasy football topic there is. From beginner help to advanced draft strategies to daily fantasy strategy tips.
Read more »
February 27, 2020. Premium
Here are the latest players falling in fantasy football average draft position (ADP).
Read more »
July 16, 2019. Premium
Who Should You Start?
Who Should You Draft?