Josh McCown QB (FA)
Josh McCown Announces retirement: McCown announced his retirement from football Monday in an article for The Players' Tribune.
Fantasy impact: A 2002 third-round pick, McCown spent time with 10 different teams in 17 NFL seasons, going 23-53-0 as a starter. He had his best statistical campaign at age 38, completing 67.3 percent of his passes for 2,926 yards ad 18 touchdowns on a 2017 Jets squad that entered its season as a clear favorite to land the No. 1 overall pick. McCown's solid performance dropped the Jets lower in the draft order for 2018, but they still managed to obtain Sam Darnold, who now is backed up by Trevor Siemian . McCown will turn 40 in July and shouldn't have any trouble finding a job as a coach or a broadcast analyst. His retirement announcement specifies that he plans to do more work as an analyst at some point in the future.
McCown isn't currently being drafted in fantasy drafts right now.
Ryan Switzer QB (PIT)
Ryan Switzer Shines during OTAs: Switzer was impressive during spring practices while competing with Eli Rogers for slot work, Mark Kaboly of The Athletic reports.
What it means: The competition between Rogers and Switzer could lead to a role with regular targets if the Steelers primarily use JuJu Smith-Schuster outside. That calculation likely depends on a number of factors, including the team's confidence in Donte Moncrief , James Washington and/or Diontae Johnson -- a trio competing for snaps outside. In any case, Switzer has a good shot to earn a spot on the 53-man roster, with his ability to return punts and kickoffs potentially creating a role even if he ultimately loses out to Rogers.
Switzer isn't currently being drafted in fantasy drafts right now.
Kirk Cousins QB (MIN)
Kirk Cousins Gaining experience with receivers: Offensive coordinator Kevin Stefanski expects Cousins to take a big step forward in his second season with the Vikings, NFL.com's Jeremy Bergman reports. "Having one year under his belt around his teammates is a big deal and there's so much that goes into understanding the nuances of each one of your receivers and your tight ends and knowing how they come out of routes," Stefanski said.
Fantasy impact: Cousins finished his first season in Minnesota with career highs for completion percentage (70.1) and passing touchdowns (30), but he produced just 6.6 YPA after a Week 10 bye as the team stumbled to a 3-4 finish and missed the playoffs. Stefanski was promoted to replace John DeFilippo as offensive coordinator for the final three weeks, helping secure two easy victories prior to a season-ending collapse against the Bears in Week 17. The Vikings seem to be tweaking their philosophy and terminology rather than overhauling, with the hope that some offseason changes can put the same core group of players in better positions to succeed. A shaky offensive line got some help in the form of first-round pick Garrett Bradbury and free-agent signing Josh Kline, while offensive advisor Gary Kubiak should be a useful asset for the coaching staff. There's also some hope the offense can become more versatile, with second-round pick Irv Smith Jr. potentially allowing for increased use of formations with multiple tight ends. The Vikings had three wideouts on the field for 69 percent of their snaps last season, despite getting minimal production from No. 3 receiver Laquon Treadwell .
It's possible to track the change in Kirk Cousins's fantasy value over time by looking at where he's drafted. According to the latest PPR average draft position data, he's being drafted in at the 12.05 spot.
Keep an eye out on his value going forward.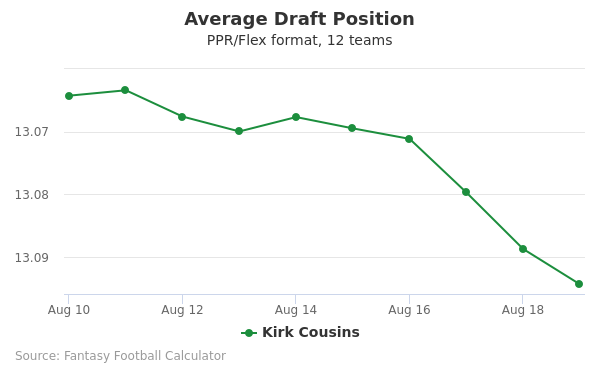 Sam Darnold QB (NYJ)
Sam Darnold Struggles during minicamp: Darnold and the Jets offense struggled during June minicamp, though dropped passes were part of the problem, Manish Mehta of the New York Daily News reports.
What it means: Darnold's work throughout the offseason program has mostly drawn praise from the media, but it sounds like the Gang Green defense got the best of the offense in the final few practices before training camp. In addition to learning a new scheme from coach Adam Gase, the 22-year-old quarterback is trying to get comfortable with offseason acquisitions Le'Veon Bell and Jamison Crowder . The Jets have a well-balanced group of pass catchers, though tight end could be a weak spot early in the season with Chris Herndon expected to serve a short suspension.
Up until now, Sam Darnold has been drafted at the 14.10 in PPR leagues.
How much this impacts Darnold remains to be seen.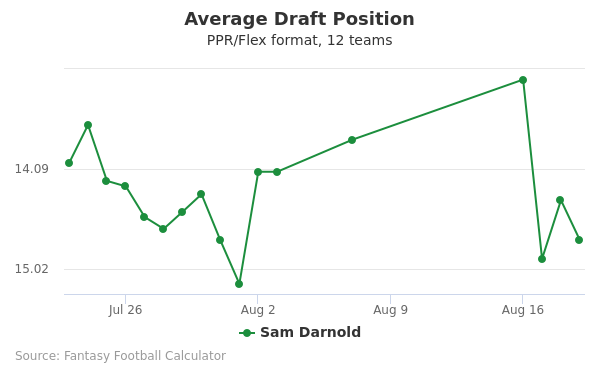 Dwayne Haskins QB (WAS)
Dwayne Haskins Contending for starting job: Haskins is a serious contender for the Week 1 starting job, ESPN.com's John Keim reports. "He's put enough out there on tape to say he deserves a shot, without a doubt," coach Jay Gruden said. "When he's on, there's nobody you'd rather have than Dwayne. It's pretty. He stands tall; he has a cannon, and he can quicken up his release. He's got great touch. But sometimes when he's off, he's abnormally off. It's kind of weird."
Our take: The 15th overall draft pick seems to be as advertised so far, displaying the inconsistency that's almost inevitable for a one-year college starter. The good moments apparently have been impressive enough to put Haskins on even footing in a camp/preseason battle for the starting job with Case Keenum and Colt McCoy (leg). Each of the three figures to get work with the first-team offense, though McCoy seems like a long shot to actually win the job. Haskins has a huge advantage in terms of size, arm strength and youth, but Gruden may decide Keenum gives the team a better chance to win games in September. Either way, the rookie is a strong bet to make starts at some point this season.
Haskins isn't currently being drafted in fantasy drafts right now.
Jimmy Garoppolo QB (SF)
Jimmy Garoppolo Takes single rep in team drills: Garoppolo (knee) took a single rep in full team drills during Wednesday's practice, Joe Fann of the 49ers' official site reports.
What it means: Garoppolo completed a pass to Dante Pettis on the play, and then the defensive lineman left the field and the 49ers returned to playing 11-on-7. Head coach Kyle Shanahan said Tuesday that Garoppolo was not yet cleared for team drills, per Jennifer Lee Chan of NBC Sports Bay Area, and this single practice rep isn't enough to convince us that has changed. However, even if he didn't fully "return to team drills," this is nonetheless a small step in the right direction for the quarterback who's on the mend from a torn ACL. It remains to be seen if he'll be able to do anything more on the final day of minicamp Thursday. If not, Garoppolo should be back on the field for training camp late next month.
It's possible to track the change in Jimmy Garoppolo's fantasy value over time by looking at where he's drafted. According to the latest PPR average draft position data, he's being drafted in at the 11.09 spot.
How much this impacts Garoppolo remains to be seen.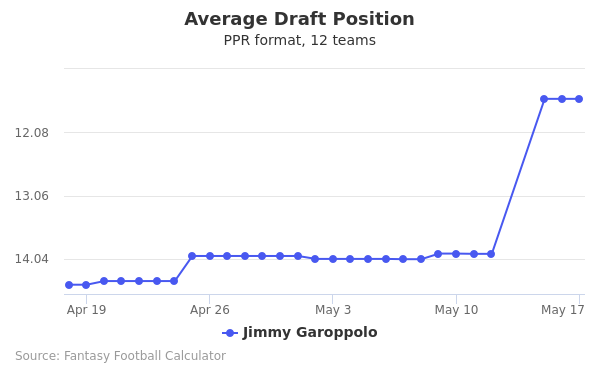 Cam Newton QB (CAR)
Cam Newton Increases throwing range: Newton (shoulder) increased his throwing range to approximately 20 yards Wednesday, David Newton of ESPN.com reports.
What it means: Newton also threw to moving targets rather than stationary ones, but he still has a ways to go before he's cleared to practice with teammates. It should happen early in training camp, if not at the very beginning, as he'll have time to build up arm strength over the next six weeks. Based on pictures circulating around Twitter, Newton appears to have successfully lost weight in the offseason with help from a new trainer and a vegan diet.
It's possible to track the change in Cam Newton's fantasy value over time by looking at where he's drafted. According to the latest PPR average draft position data, he's being drafted in at the 9.07 spot.
How much this impacts Newton remains to be seen.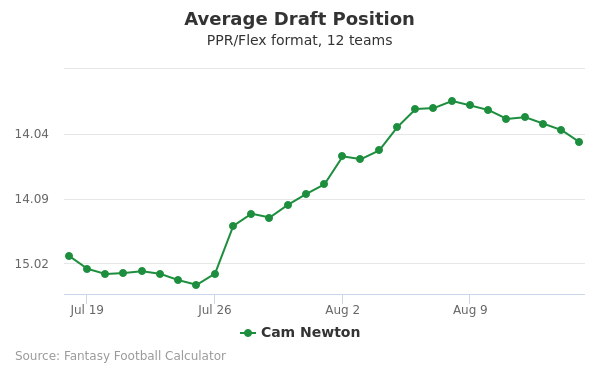 Andrew Luck QB (IND)
Andrew Luck Not practicing this week: Head coach Frank Reich said Tuesday that Luck (calf) will not participate in practice this week, Mike Chappell of Fox 59 News Indianapolis reports.
Our take: With that, training camp in late July will be the earliest the quarterback will see the field this offseason. It appears likely that Luck will be back in time for training camp, however, as Reich reiterated that there is no real concern surrounding Luck's health. Rather, they are just proceeding with caution this early in the offseason.
The fantasy value of Andrew Luck is measured by his average draft position (ADP). The graph below shows how it's trending in the latest mock drafts . In recent drafts, Luck's current ADP is 4.11
Keep an eye out on his value going forward.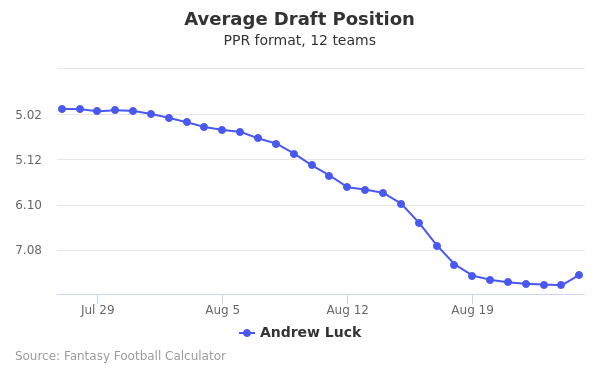 News and analysis powered by RotoWire.
---
Filed under: Free Articles