2016 Season Review
For the 4th consecutive season Keenan Allen finished his season on injured reserve. In the first week of 2016, Allen tore his ACL and had his second major knee surgery. Coming into 2017 he represents one of the biggest risks in fantasy drafts.
2017 Fantasy ADP
The graph below shows Allen's inconsistent fantasy football ADP over the past month. Data is from 12-team standard mock drafts.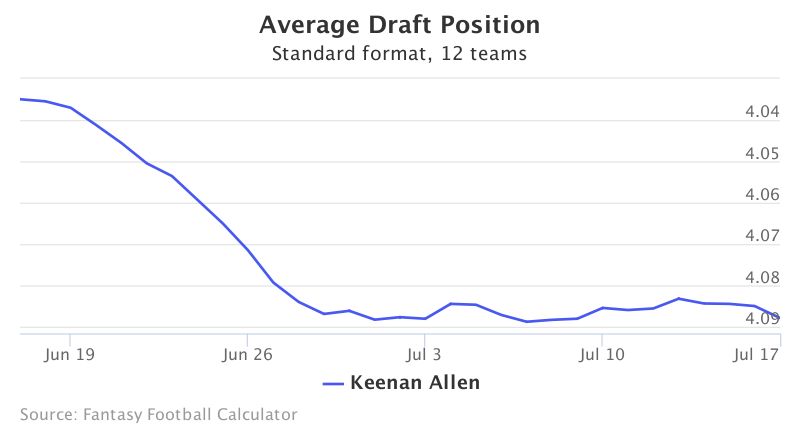 This year, Allen's injury risk has caused his ADP to fluctuate across the 4th round. However, going at pick 4.04, he still represents a major gamble in fantasy drafts.
Productive When He Played
Allen was highly productive when he last saw extended playing time in 2015. Playing only 8 games, he finished with 67 receptions, 725 receiving yards, and 4 touchdowns on 89 targets. He also had a target share of 25.4% and a red zone target share of 17.9%.
Across his career, Philip Rivers has never finished with a passer rating below 100 when targeting Allen. Serving as Rivers' possession receiver, Allen has amassed more than one third of his receiving yards after the catch.
Looking to 2017
However, there are many question marks surrounding Allen. First, Allen has not been able to put together a full season once in his career. During that time he has torn his ACL, PCL, lacerated a kidney, and fractured his clavicle, to name a few of his injuries.
Additionally, Los Angeles suddenly has a full stable of receivers. The team spent premium draft capital on rookie Mike Williams with the 7th overall pick. Likewise, Tyrell Williams experienced a breakout year in 2016, catching 1,059 receiving yards. With these receivers and two capable tight ends in Antonio Gates and Hunter Henry, it is unlikely Allen retains a 25.4% target share.
Conclusion
Going at 4.04, Allen is being drafted just ahead of Sammy Watkins and Tyreek Hill. While also carrying major risk, Watkins and Allen have a chance to dominate targets in their offenses. Together, injuries and a crowded wide receiver corps make Allen very risky at this ADP, when higher upside can be had later.
---
Filed under: Free Articles