Wide receivers are critical in fantasy football.
A good fantasy roster is deep in pass catching talent, especially in PPR leagues.
These 10 players are the latest ones in the news.
Use this information to help start the right players, monitor the waiver wire and identify trade targets.
Larry Fitzgerald WR (ARI)
Larry Fitzgerald Present for offseason workouts: Fitzgerald was active for the entire offseason program, Darren Urban of the Cardinals' official site reports.
What it means: Aside from mandatory minicamp, every stage of the offseason program is "voluntary," whether it's the aptly named voluntary minicamp in April to OTAs that extend from May into June. As a 15-year veteran, Fitzgerald wouldn't be blamed for missing certain workouts or practices, but with a new coaching staff in place and greenhorn signal-caller under center, he was at the Cardinals' facility from Day 1 on April 8 through the final drill on June 12. It's unclear what the offense will look like under Kliff Kingsbury, but shades of the Air Raid and its uptempo, pass-happy attack are expected. And with first overall pick Kyler Murray transitioning to the pro game, the ever-reliable Fitzgerald figures to be looked at early and often. The hope is a return to his 100-catch, 1,000-yard campaigns from 2015-2017, but do-it-all back David Johnson , second-year wideout Christian Kirk and a bevy of young receivers likely will eat into Fitzgerald's target share.
The fantasy value of Larry Fitzgerald is measured by his average draft position (ADP). The graph below shows how it's trending in the latest mock drafts . In recent drafts, Fitzgerald's current ADP is 9.05
Watch out to see if Fitzgerald's value changes in light of this update.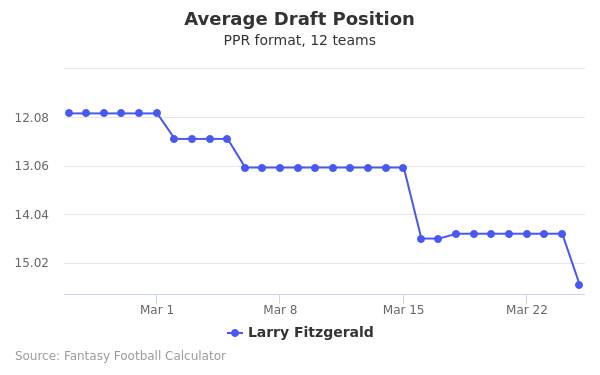 Jordan Lasley WR (BAL)
Jordan Lasley Uneven minicamp showing: Lasley struggled during Baltimore's mandatory minicamp, Jeff Zrebiec of The Athleticreports.
What it means: The second-year receiver out of UCLA needs to make a strong impression this offseason after not seeing the field as a rookie. Unfortunately, Lasley is not off to a good start in that regard and the team's restocked receiver room puts him further down the depth chart. If healthy, rookies Marquise Brown and Miles Boykin figure to start alongside Willie Snead, leaving Lasley to battle for a reserve position. Beyond that trio, veterans like Seth Roberts and Michael Floyd will also have strong cases at making the 53-man roster, and fellow 2018 draft pick Jaleel Scott reportedly stood out during minicamp. As it stands, Lasley will need to step up during training camp and the preseason to keep his roster spot come September.
Lasley isn't currently being drafted in fantasy drafts right now.
Robert Davis WR (WAS)
Robert Davis Headed for PUP list: Davis (knee) likely will start the regular season on the PUP list, Jake Kring-Schreifels and Kyle Stackpole of redskins.com report.
Our take: Davis suffered a devastating injury last August, fracturing his tibia and tearing three major ligaments (ACL, PCL, LCL) in his right knee. He said in February that he didn't expect to be ready for training camp, perhaps hinting at a third consecutive redshirt season after he spent most of his rookie year on the practice squad and all of 2018 on injured reserve. Davis was one of the stars of the 2017 combine, running a 4.44-second 40-yard dash at 6-foot-3, 219 pounds, and placing first or second among wide receivers in the broad jump (136 inches), vertical jump (41 in.) and bench press (19). The 2017 sixth-round pick caught 222 passes for 3,391 yards and 17 touchdowns as a four-year starter at Georgia State.
Davis isn't currently being drafted in fantasy drafts right now.
Jake Kumerow WR (GB)
Jake Kumerow Impressing Rodgers again: Kumerow has the continued support of Packers quarterback Aaron Rodgers , who has commented on the wide receiver a number of times over the past year, Jason Wilde of the Wisconsin State Journal reports. "Obviously, I'm a big fan of [Kumerow]," Rodgers said last week. "I don't think I need to keep going on that."
Fantasy impact: Kumerow bounced around NFL practice squads from 2015 to 2017, spending time with the Bengals, Patriots and Packers. He made his bid for a roster spot in Green Bay last August, catching six passes for 190 yards and two touchdowns in two preseason games before a shoulder injury sent him to injured reserve. Kumerow returned from IR in December and caught eight passes for 103 yards in five games, highlighted by a 49-yard touchdown from Rodgers in Week 16. The 27-year-old now finds himself with an excellent opportunity in a Packers offense that has open competition for wideout snaps behind Davante Adams . Reports from spring practices peg Marquez Valdes-Scantling and Geronimo Allison as the early leaders for top-three roles, but Rodgers seems to be more interested in Kumerow, who still has plenty of time to make his move this summer.
Kumerow isn't currently being drafted in fantasy drafts right now.
Mike Williams WR (LAC)
Mike Williams Excited for bigger role: Williams said he's confident in handling an expanded role after the Chargers lost Tyrell Williams to the Raiders, Ricky Henne of the Chargers' official website reports. I'm a lot more confident coming out here and playing," (Mike) Williams said. "My role is going to expand with Tyrell leaving. A lot more balls coming my way. I'm looking forward to it."
Our take: With the 2017 first-round pick coming off a season that included 10 touchdown catches on 66 targets, the Chargers didn't appear interested in re-signing Tyrell Williams at market value. Mike Williams now steps in as the No. 2 receiver, while Travis Benjamin will try to fend off Dylan Cantrell, Geremy Davis and Artavis Scott for the No. 3 job. There's still some concern regarding volume, as wide receivers accounted for 55-58 percent of the Chargers' targets each of the past three years, ranking 18th or lower every season since Ken Whisenhunt took over as offensive coordinator. It was less of an issue when Philip Rivers challenged for 600 pass attempts, but he dropped off to 508 last season with the help of a strong defense. On the other hand, Williams may prove himself a good enough player to dictate team strategy, potentially encouraging Rivers to throw fewer passes to Keenan Allen, Melvin Gordon and Austin Ekeler. The return of Hunter Henry adds another variable, but most of the tight end's volume should come from the basket that went to Antonio Gates (45 targets) and Virgil Green (27) last season.
The fantasy value of Mike Williams is measured by his average draft position (ADP). The graph below shows how it's trending in the latest mock drafts. In recent drafts, Williams's current ADP is 5.12
Keep an eye out on his value going forward.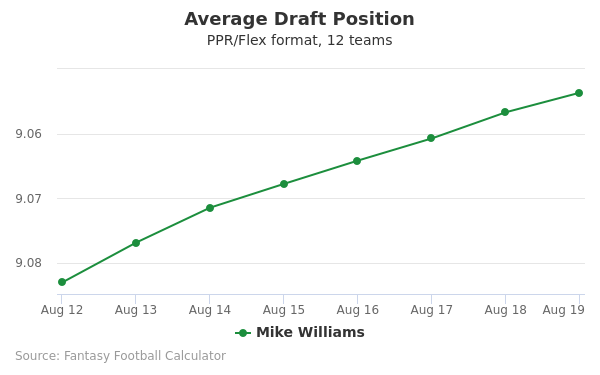 Jarvis Landry WR (CLE)
Jarvis Landry Plays softball despite injury: Landry (undisclosed) played in the charity softball game he hosted Saturday, Nick Shook of the Browns' official website reports.
Our take: Landry presumably would've been a spectator at the event if his undisclosed injury were anything serious. Despite missing most of OTAs and all of mandatory minicamp, he should be ready for the start of training camp in late July. The 26-year-old struggled in a more downfield-focused role last season, catching just 54.4 percent of his targets for 6.6 YPT while posting an average depth of target (10.9) far above anything from his Miami days. The addition of Odell Beckham Jr . should allow Landry to return his focus to the tasks he's actually good at -- catching short passes and gaining yards after the catch. The downside, of course, is that Landry will have a tough time matching last year's team-high total of 149 targets.
The fantasy value of Jarvis Landry is measured by his average draft position (ADP). The graph below shows how it's trending in the latest mock drafts. In recent drafts, Landry's current ADP is 5.10
Watch out to see if Landry's value changes in light of this update.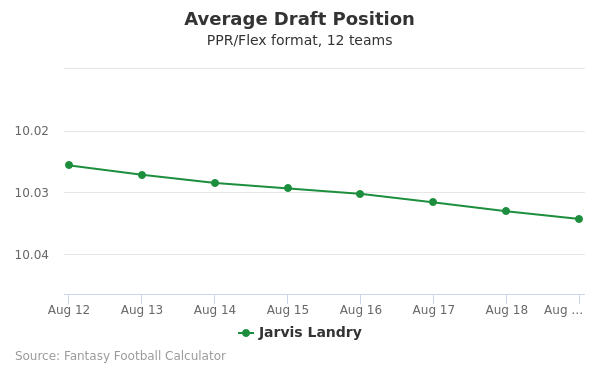 Donte Moncrief WR (PIT)
Donte Moncrief Headed for No. 2 job: Moncrief has an early lead for the No. 2 wide receiver spot, Mark Kaboly of The Athletic reports.
Fantasy impact: The Steelers should have open competition behind JuJu Smith-Schuster, with some of their decisions based on how often they want to use their best receiver in the slot. Regardless, there will be at least one outside job open for the taking, and Moncrief reportedly has an early lead over James Washington and Diontae Johnson. Kaboly already is calling it a "slam dunk" that Moncrief is the No. 2 receiver, but we prefer a more cautious approach with training camp and preseason still to come. That said, Steelers quarterback Ben Roethlisberger seems to agree with the optimistic outlook, naming Moncrief as the player that stood out most during OTAs, per Hunter Homistek of DKPittsburghSports.com reports.
The fantasy value of Donte Moncrief is measured by his average draft position (ADP). The graph below shows how it's trending in the latest mock drafts. In recent drafts, Moncrief's current ADP is 14.01
How much this impacts Moncrief remains to be seen.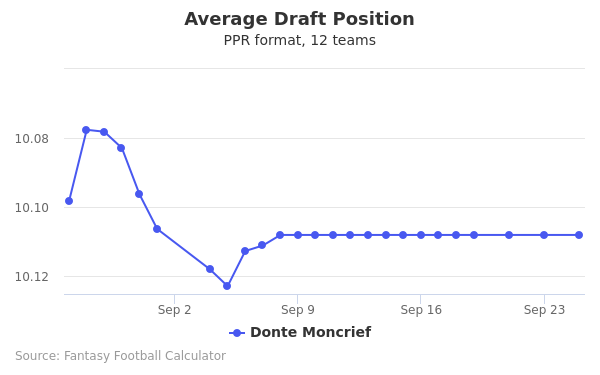 Maurice Harris WR (NE)
Maurice Harris Making case for roster spot: Harris looked good throughout OTAs and minicamp, Jeff Howe and Nick Underhill of The Athletic report.
What it means: Howe and Underhill both put Harris on their way-too-early projection for the 53-man roster, while Dontrelle Inman is left off and Demaryius Thomas (Achilles) is projected for the PUP list. The contracts hint at a slightly different picture, with Inman receiving $300,000 guaranteed and Harris getting just $90,000. The Patriots have a host of wide receivers competing for one or two spots behind Julian Edelman , N'Keal Harry, Phillip Dorsett and special teamer Matthew Slater. An impressive spring won't mean much if Harris fails to sustain his momentum into training camp and preseason.
Harris isn't currently being drafted in fantasy drafts right now.
Randall Cobb WR (DAL)
Randall Cobb Showing early chemistry with Dak: Cobb has formed a quick connection with Cowboys QB Dak Prescott, Clarence Hill Jr. of the Ft. Worth Star-Telegram reports.
What it means: Early indications are that the former Packer may be used in different packages than departed slot receiver Cole Beasley , getting more opportunities in the running game on reverses and jet sweeps in addition to routes underneath and over the middle. Cobb isn't likely to see an increased in workload in Dallas, however -- Beasley averaged 5.3 targets per game over the last three seasons, less than Cobb's 6.4 over that same time frame in Green Bay, and second-year receiver Michael Gallup will also be pushing for more looks from Prescott.
Up until now, Randall Cobb has been drafted at the in PPR leagues.
Keep an eye out on his value going forward.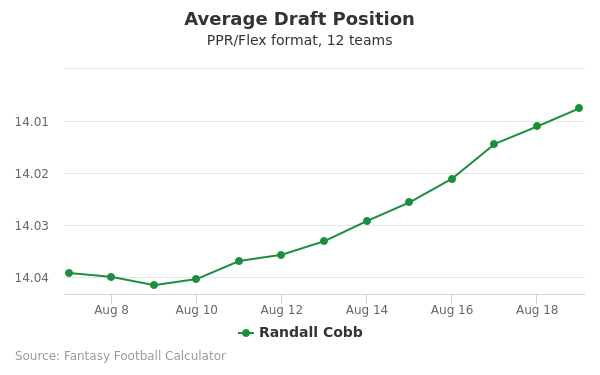 Trevor Davis WR (GB)
Trevor Davis Competing for wideout snaps: Davis is making his case for a role on offense, Wes Hodkiewicz of Packers.com reports.
Fantasy impact: A 2016 fifth-round pick, Davis enters the final year of his rookie contract with eight receptions in 29 career games, though he did see regular work as a return specialist his first two seasons. He then missed most of 2018 with hamstring injuries, returning healthy this spring for the offseason program. While still a long shot to earn a key role on offense, Davis at least has some time to make his case.
Davis isn't currently being drafted in fantasy drafts right now.
News and analysis powered by RotoWire.
---
Filed under: Free Articles