Ja'Marr Chase
Cincinnati Bengals
Wide Receiver #1
Cincinnati Bengals
Wide Receiver #1
Photo: Icon Sportswire
Personal
| | |
| --- | --- |
| Age | 22 |
| Birthdate | March 1, 2000 |
| Height | 6'1" |
| Weight | 200 lb |
Draft
College
LSU
Year
2021
Pick
Round: 1, Overall: 5
Team
CIN
Fantasy Value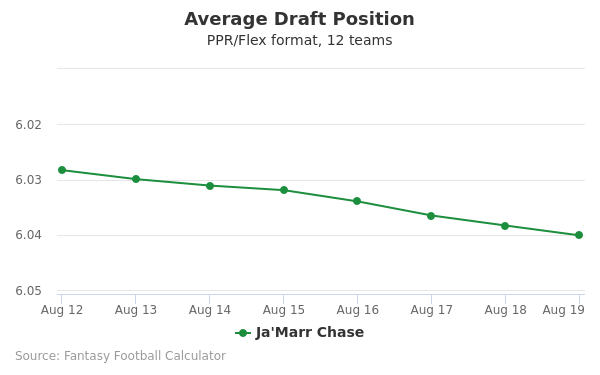 The code below will display a graph that updates every day to show the ADP data for Ja'Marr Chase for the past 30 days in 12-team PPR leagues.
You may use this graph on your website for free with a link back to this page for attribution.
Player News
Ja'Marr Chase: Solid in Super Bowl loss
Chase recorded five receptions on eight targets for 89 yards in Sunday's 23-20 Super Bowl LVI loss to the Rams.
Analysis: Chase was overshadowed by Tee Higgins' two-touchdown performance, though he still delivered explosive plays of his own. He set up Cincinnati's first points of the game when he hauled in a 46-yard reception after beating Jalen Ramsey down the right sideline. Chase also added a 17-yard catch on the final drive of the game as the team was pushing down the field in an effort to attempt a game-tying field goal. Despite the disappointing loss, Chase was excellent throughout the postseason by topping 100 yards twice and posting five gains of 20 or more yards across four contests. He'll head into his second season as the primary big-play threat in the Bengals' offense while working opposite Higgins.
Feb. 13, 2022 8:10 PM EST
Player Stats
YEAR
TM
GM
Receiving
Rushing
REC
TGT
%
YDS
TD
YPC
ATT
YDS
YPC
TD
FUM
Recent Articles
The top selections for your Super Bowl LVI DraftKings competition
Read more »
February 13, 2022. Premium
February 13, 2022
Premium
Your FanDuel Values and Busts for Super Bowl LVI
Read more »
February 10, 2022. Premium
February 10, 2022
Premium
Week 18's Dynasty Week in Review reminds you of some old friends, is in love with Javonte Williams, also loves Tee Higgins, and flags...
Read more »
January 8, 2022. Premium
Who Should You Start?
Who Should You Draft?