Najee Harris
Pittsburgh Steelers
Running Back #22
Pittsburgh Steelers
Running Back #22
Photo: Icon Sportswire
Personal
| | |
| --- | --- |
| Age | 24 |
| Birthdate | March 9, 1998 |
| Height | 6'2" |
| Weight | 230 lb |
Draft
College
Alabama
Year
2021
Pick
Round: 1, Overall: 24
Team
PIT
Fantasy Value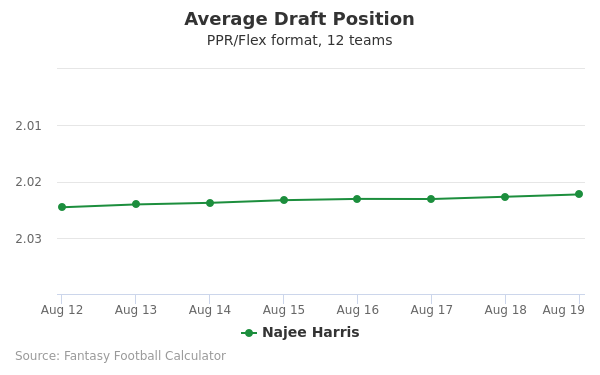 The code below will display a graph that updates every day to show the ADP data for Najee Harris for the past 30 days in 12-team PPR leagues.
You may use this graph on your website for free with a link back to this page for attribution.
Player News
Najee Harris: Barely provides positive final line
Harris (elbow) rushed 12 times for 29 yards while catching both of his targets for a loss of one yard and losing a fumble in Sunday's 42-21 loss to the Chiefs.
Analysis: Harris was able to suit up after injuring his elbow in the Steelers' regular-season finale, but a balky elbow can't explain away being stonewalled by the defense as a runner. Onlookers can probably attribute the lost fumble to the rookie's injury, as he safely secured every single touch during his first turn in the pros. The 2021 first-round pick finished the regular season with 1,667 combined yards and 10 combined touchdowns as the Steelers' workhorse over 17 games, giving him starter's appeal across all formats based on volume alone. However, a sub-par 3.9 yard per carry mark left much to be desired in terms of his abilities as a runner. Perhaps the spread nature of Pittsburgh's offensive scheme with Ben Roethlisberger under center handicapped the young back. Either way, we will see how Harris responds to potentially becoming the focal point of a new-look Steelers squad that will be without its leader for the past two decades.
Jan. 16, 2022 11:14 PM EST
Player Stats
YEAR
TM
GM
Rushing
Receiving
ATT
YDS
YPC
TD
FUM
REC
TGT
%
YDS
TD
YPC
Recent Articles
Your FanDuel Values and Busts for NFL Wild Card Weekend 2022
Read more »
January 16, 2022. Premium
Your FanDuel Values & Busts for NFL Week 15
Read more »
December 17, 2021. Premium
December 17, 2021
Premium
Week 14's Dynasty Week In Review is here for Minshew Mania, is afraid of the Seattle situation, and needs Big Ben to retire yesterday.
Read more »
December 12, 2021. Premium
December 12, 2021
Premium
Who Should You Start?
Who Should You Draft?