This week for review is a recently completed 10-team PPR mock draft. Players are dropping with injuries, creating a lot of value in later rounds of drafts. Leagues are drafting within the month and this is the most important time to complete and review mock drafts.
At Fantasy Football Calculator you can join mock drafts , check out the latest mock draft results , and analyze ADP data for each player. You can also see the likelihood a player falls to you during a certain round with the scenario calculator .
The mock draft referenced below can be found here .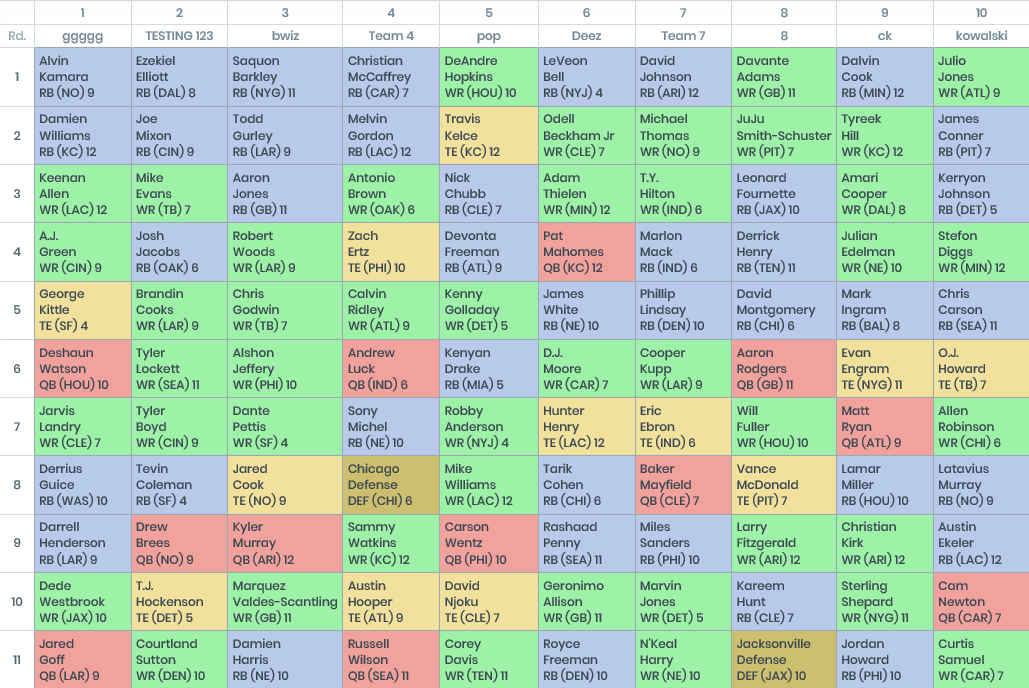 You can mock draft on your phone for free on iPhone and Android .
Round 1
Best Pick – Christian McCaffrey - Pick 1.04
I would be ecstatic to "end up with" Christian McCaffrey with the 4th overall pick in a full-PPR draft. He's the most used piece in his respective offense, and while regression is due to hit McCaffrey, he's game-script independent and his flow is extremely high.
Worst Pick – Dalvin Cook - Pick 1.09
I think this is a little early to draft Dalvin Cook in a full-PPR league with other RBs available like Conner who should see more touches and receptions. In this 10-team PPR league, there are no "bad" first-round picks, however, there is more certainty in Conner's role in the offense when compared with Cook. Cook's ADP is currently 2.08 and if this team did want to draft him,  they surely could have with their second-round pick.
Round 2
Best Pick – Joe Mixon - Pick 2.09
Joe Mixon has great value when selected at the back of the second round. He's a solid 1-2 combo at RB to pair with Elliott and is safer than drafting Gurley or Gordon as of writing this. While the Bengals have an injured o-line and are without AJ Green to start the season, Mixon will have the bulk of the carries and goal-line touches in every game.
Worst Pick – Melvin Gordon - Pick 2.07
While the worst pick could have gone to Todd Gurley, at least there's a chance he'll be on the field to start the season. Melvin Gordon 's contract dispute is not positive and there is no end in sight with the holdout. Damien Williams, although slightly injured, would have been a more logical choice here in hopes that he recovers 100% in time for week 1.
Rounds 3 & 4
Best Pick – Antonio Brown - Pick 3.04
Nothing but disrespect to one of the greatest WRs in the league as Antonio Brown slips to the fourth pick in the third round, the 10th WR off the board. Brown's fantasy production will regress with Derek Carr under center, there's no debating that, but he is still extremely talented which will push him into the top WR 5-7 territory. While Amari Cooper was often ignored by Gruden, will he do the same with Antonio Brown? I don't believe so.
Worst Pick – Derrick Henry – Pick 4.03
Not only did the Titans lose a key piece of its offensive line for the first four weeks, but Derrick Henry also injured his leg recently with no certain timetable to return. Selecting him now in drafts ahead of RBs such as Marlon Mack and Josh Jacobs, two RBs with major roles in their respective offenses, is a risk I don't want to incur entering the season.
Rounds 5 & 6
Best Pick – Tyler Lockett - Pick 6.09
While Tyler Lockett is a part of the league's most run-heavy team, the Seahawks put up 27 points a game last year, and Carson/Penny can't score all of the touchdowns! Lockett starts the year as the Seahawks' WR1 and that's great value in the middle to late 6th round. While you wouldn't want to rely on Lockett as your WR1 or WR2, his big-play ability makes him a lethal flex or WR3 and worthy of a spot on your roster.
Worst Pick – Phillip Lindsay – Pick 5.07
Phillip Lindsay finished as RB13 in PPR leagues last year, but with early reports coming out of camp with him splitting carries with Royce Freeman, last year's preseason darling, I'm hesitant to draft him as my RB2. Lindsay is primarily a threat on the ground as he only had 35 receptions in 15 games last year and is a realistic target for regression this year, which will destroy most of the value of selecting Lindsay in the 5th. If you want a piece of the Broncos run game, draft Freeman in the 10th round.
Rounds 7 & 8
Best Pick – Tyler Boyd - Pick 7.02
Tyler Boyd continues to have great value in drafts, even with the injury to AJ Green. While Boyd is not as productive with AJ Green on the field, having him as your WR3/Flex is solid as you'll have a very safe weekly floor at the position. Boyd finished as WR17 last year in PPR leagues and was drafted as WR27 in this specific draft.
Worst Pick – Lamar Miller - Pick 8.02
While Lamar Miller is a decent option in standard and half-PPR leagues, he's not the best option at running back here in this full-PPR draft. Other running backs in this range have more solid receiving roles in their offense, which ultimately tallies up to more fantasy points throughout the season. Over 14 games played last season he only managed 25 receptions, whereas Tarik Cohen had 71 over 16 games played.
Rounds 9 - 11
Best Pick – Cam Newton - Pick 10.01
Cam Newton has one of the highest rushing floors in the league and this draft proved once again why you can wait on the quarterback position. When implementing this strategy, team 10 was able to solidify his RB and WR depth before selecting his starting QB. If you have the 1 or 12 draft slot, it's not a horrible decision to be one of the very last to grab your QB as there's still immense value late which are just as solid as the QBs taken in the middle rounds.
Worst Pick – T.J. Hockenson - Pick 10.09
In a 10-team PPR draft, T.J. Hockenson has a current ADP of 13.04. In this draft, all of the other teams had chosen their starting tight end, and the draft ultimately ended with Hockenson being the last tight end chosen. Team 2 jumped almost three full rounds to draft him when he could have selected him as a flier with his last pick. Yes, you will need to know your league and if backup tight ends are chosen, however, do rookie TEs usually produce to the level that you can rely on them every week? They don't. I understand waiting on a TE, however, if Hockenson was drafted by another team, you still had players like Mark Andrews or Greg Olsen who arguably are better picks anyways.
---
Filed under: Free Articles