Season in Review
Going into the 2016 season, Seattle Seahawks' wide receiver Doug Baldwin was getting little respect in fantasy football drafts, as he was the 26th wide receiver off the board, after busts like Donte Moncrief, Jeremy Maclin and a suspended Josh Gordon.
At season's end, Baldwin finished as the WR10 and WR8 in Standard and PPR leagues, respectively. While accomplishing this, he set career highs in targets (125), receptions (94) and yards (1,128).
Per Pro Football Focus, Baldwin has ranked first in total wide receiver ranking since 2012, with a score of 123.9. Baldwin is an underrated receiver and one to pay close attention to in early drafts -- it wouldn't be surprising to see him drafted as a top 10 wide receiver come late August.
Average Draft Position
Baldwin has a current ADP of 3.06, and is currently the 13th wide receiver being taken. The graph below shows his decline in fantasy football ADP over the past month. Data is from 12-team standard mock drafts.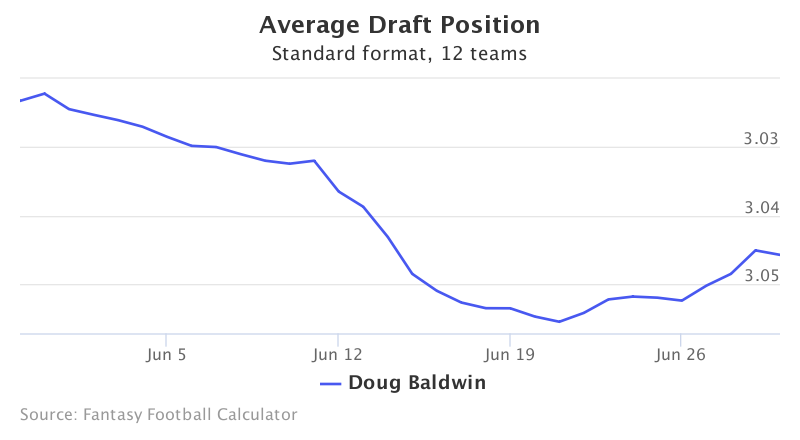 Baldwin's ADP has dropped a few spots over the past month, and this is a head scratcher. Other players who are being drafted ahead of him include DeAndre Hopkins, Amari Cooper and Brandin Cooks – the public is holding them to high expectations to each finish as top-10 receivers this year. Once again, Baldwin is being overlooked.
Opportunity in the Seahawks' Offense
This year, Baldwin was undoubtedly the go-to guy in the Seahawk's passing offense. He had 94 receptions, compared to other receiving options Jimmy Graham (65) Tyler Lockett (41) and Jermaine Kearse (41). Baldwin provides a nice floor each week, especially in PPR leagues, and continues to provide solid value due to his role in the offense.
Baldwin's touchdown total regressed, as most expected it would, from 14 TDs in 2015 to only 7 in 2016 -- if he is able to haul in double-digit touchdowns once again he should comfortably find himself finishing inside the top 10 again. If Jimmy Graham is forced to miss any extended period of time due to injury or the Seahawks are unable to get its running game going, look for Baldwin to have an even greater year.
---
Filed under: Free Articles