Todd Gurley RB (LAR)
Todd Gurley Goes through individual drills: Gurley (knee) took part in individual drills at Saturday's practice, Myles Simmons of the Rams' official site reports.
Our take: In addition to catching a swing pass in stride, Gurley also hauled in another throw from Jared Goff after a fake handoff, per Lindsey Thiry of ESPN.com. Saturday's session was merely the first step for Gurley after hearing questions about the state of his left knee all offseason. Among them is his potential workload. With Malcolm Brown back on a two-year deal and selection of Darrell Henderson in the third round of this year's draft, the Rams are prepared in the event Gurley yields touches. And that may not be known until Week 1 or later due to the unlikelihood of Gurley playing during exhibition season.
The fantasy value of Todd Gurley is measured by his average draft position (ADP). The graph below shows how it's trending in the latest mock drafts . In recent drafts, Gurley's current ADP is 2.04
Keep an eye out on his value going forward.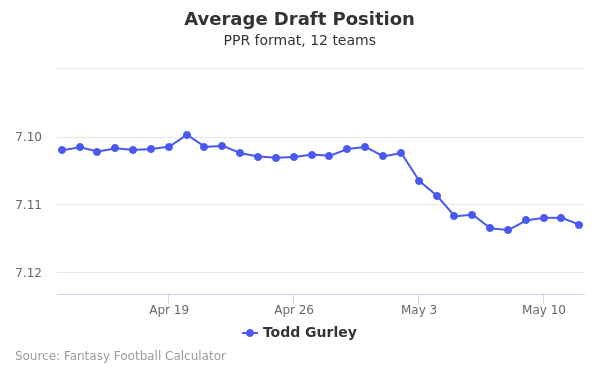 Darius Jackson RB (DAL)
Darius Jackson Working with first team: Jackson was the primary first-team running back during Saturday's practice,Jon Machota of The Athletic reports.
What it means: Jackson appears to be the preliminary leader for snaps among the Cowboys' running back room with Ezekiel Elliot (contract dispute) holding out. The 2016 sixth-round pick is competing with rookies Tony Pollard and Mike Weber for the No. 2 running back role in Dallas, though it's worth noting that the team would almost certainly rely on a committee approach if Elliott were to miss any time.
Jackson isn't currently being drafted in fantasy drafts right now.
Derrick Henry RB (TEN)
Derrick Henry Dons walking boot: Henry (foot) did not practice Saturday and is wearing a walking boot, Terry McCormick of titansinsider.com reports.
What it means: Henry departed Friday's practice early due to an apparent foot issue and was called "day-to-day" by coach Mike Vrabel, but the exact nature of his injury undisclosed. It seems probable that Henry will remain sidelined during Sunday's practice, the first padded session of Tennessee's training camp. While there's no reason to consider Henry's injury as anything more than minor at this point, the situation will be worth monitoring closely. Across 16 games last season, Henry recorded 215 rushing attempts for 1,059 yards (4.9 YPC) and 12 touchdowns, and figures to be a featured weapon in the Titans' offense in 2019.
Up until now, Derrick Henry has been drafted at the 4.01 in PPR leagues.
How much this impacts Henry remains to be seen.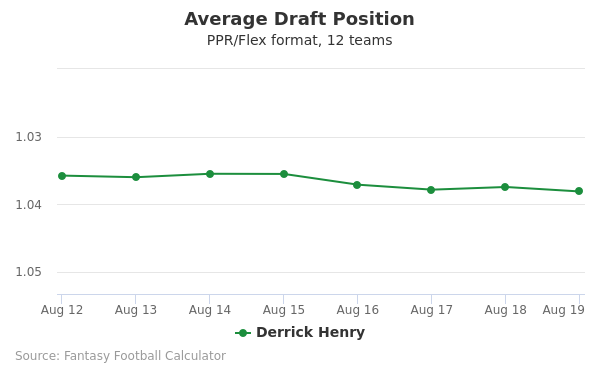 Duke Johnson RB (CLE)
Duke Johnson Expected to be healthy soon: Coach Freddie Kitchens said Saturday that Johnson (hamstring) isn't expected to be sidelined for an extended period of time, Scott Petrak of the Elyria Chronicle-Telegram reports.
Our take: Johnson sat out the Browns' last two practice sessions due to a hamstring issue, the severity of which appears relatively minor. The 25-year-old running back has expressed a desire to be traded from Cleveland this offseason, but it appears increasingly likely that Johnson will remain with the team as a complement to starter Nick Chubb .
The fantasy value of Duke Johnson is measured by his average draft position (ADP). The graph below shows how it's trending in the latest mock drafts. In recent drafts, Johnson's current ADP is 14.03
How much this impacts Johnson remains to be seen.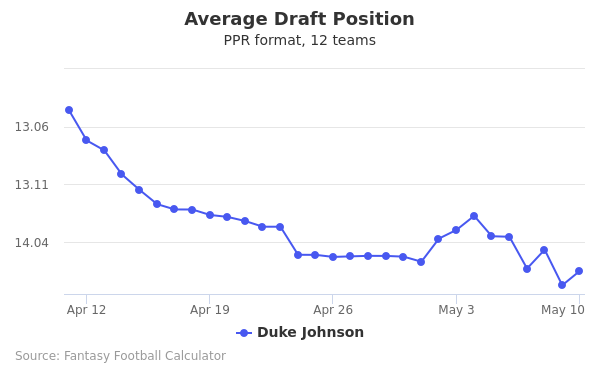 Jamaal Williams RB (GB)
Jamaal Williams Nursing hamstring injury: Williams sat out Saturday's practice due to a hamstring issue, Wes Hodkiewicz of the Packers' official site reports.
What it means: The severity of Williams' injury remains undisclosed, but his situation warrants close monitoring given the tricky nature of hamstring issues. As long as Williams remains sidelined, rookie sixth-round pick Dexter Williams should see increased opportunity to earn reps.
It's possible to track the change in Jamaal Williams's fantasy value over time by looking at where he's drafted. According to the latest PPR average draft position data, he's being drafted in at the spot.
Watch out to see if Williams's value changes in light of this update.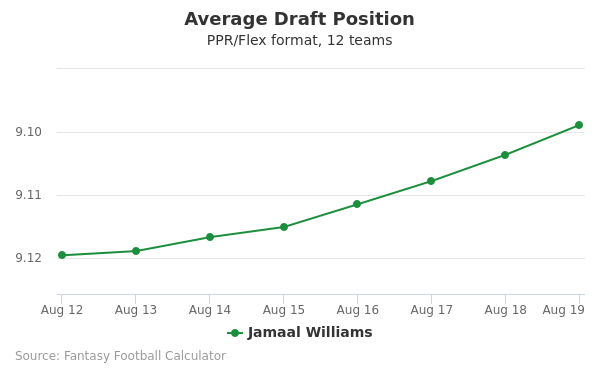 News and analysis powered by RotoWire.
---
Filed under: Free Articles