Adam Shaheen TE (CHI)
Adam Shaheen Sheds weight to improve durability: Shaheen lost seven pounds during the offseason, focusing on flexibility and core strength in an effort to avoid future injuries, Adam Jahns of The Athletic reports.
Our take: The 2017 second-round pick has missed 13 games through two NFL seasons, dealing with foot, ankle, chest and head injuries. Shaheen played the final five weeks of last season and then replaced Trey Burton (sports hernia) as Chicago's top tight end for a playoff loss to Philadelphia, but the 24-year-old acknowledges that he wasn't in the best shape at the time, still working his way back to full strength after he spent the first 10 weeks of the campaign on injured reserve. Shaheen had a nice opportunity for regular first-team snaps with Burton recovering from surgery during the offseason program, but the Bears expect their starter to be healthy before the end of training camp, likely relegating Shaheen to a role that primarily focuses on blocking.
Shaheen isn't currently being drafted in fantasy drafts right now.
Jake Butt TE (DEN)
Jake Butt Will participate in training camp: Butt (knee) will be cleared to participate in training camp, Ryan O'Halloran of The Denver Post reports.
Our take: Butt, who tore his ACL for the third time in the last five years, has played in just three games since being drafted in the fifth round of the 2017 NFL Draft. A report surfaced at the end of March that Butt wouldn't be able to practice until sometime in August, so it's encouraging to see the team confident the injury-prone tight end can take part immediately. The Broncos are expected to slowly transition Butt back into the fold, but the 23-year-old could be fighting for a roster spot after the team re-signed Jeff Heuerman to a two-year deal during the offseason, and also selected Noah Fant with the 20th pick in draft.
Butt isn't currently being drafted in fantasy drafts right now.
Mike Gesicki TE (MIA)
Mike Gesicki Sophomore improvements expected: Gesicki said he feels "more comfortable" and is "able to adapt a little bit quicker" heading into his second NFL season, Chris Perkins of The Athletic reports.
Fantasy impact: Following an unimpressive rookie campaign in which he caught only 22 passes for 202 yards, Gesicki appears primed to take a step forward in Year 2. Rookie struggles are par for the course at the tight end position, and Gesicki was specifically billed as an athletic but raw prospect when the Dolphins selected him No. 42 overall in the 2018 NFL Draft. The team acquired Dwayne Allen in free agency, a veteran known for his blocking ability, which should allow Gesicki to focus on his strengths as a receiving weapon and red zone threat. As a focal piece of Miami's rebuilding process, it seems likely that Gesicki will receive plenty of snaps and opportunities to develop in 2019.
Gesicki isn't currently being drafted in fantasy drafts right now.
Hunter Henry TE (LAC)
Hunter Henry Flashes excellent hands: Henry (knee) made a handful of impressive catches during OTAs, Eric D. Williams of ESPN.com reports.
Fantasy impact: One playoff game and a year removed from an offseason torn ACL, Henry appears to be fully healthy entering his fourth professional season. Considering veteran mainstay Antonio Gates hasn't signed on for his 17th season and Virgil Green remains around purely as an additional blocker, the 24-year-old could be in position for a major chunk of the team's target share, particularly between the 20s. The emergency of Mike Williams as a certifiable red zone threat might threaten Henry's chances at exceeding his career-high eight touchdowns in 2016, but the 6-foot-5, big-bodied target will still be a featured option near the goal line regardless of the other personnel around him.
It's possible to track the change in Hunter Henry's fantasy value over time by looking at where he's drafted. According to the latest PPR average draft position data, he's being drafted in at the 6.02 spot.
How much this impacts Henry remains to be seen.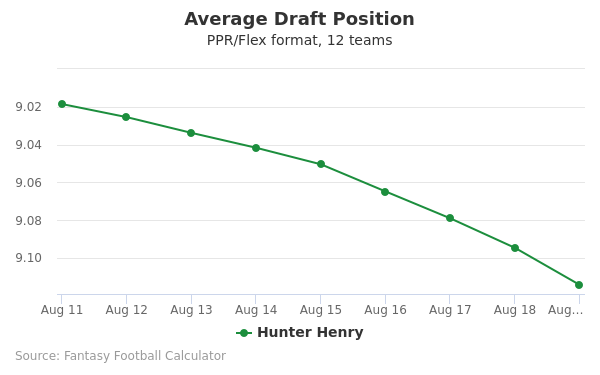 Michael Roberts TE (FA)
Michael Roberts Waived again: Roberts was waived by the Packers due to a failed physical, Field Yates of ESPN reports.
Our take: This marks the second time in a week that Roberts has failed a physical. It's not clear what concern teams are having with the tight end, but we'd guess it has something to do with the shoulder injury that landed Roberts on injured reserve last December. While Roberts should again command some interest on the open market when healthy, it could be some time before that happens.
Roberts isn't currently being drafted in fantasy drafts right now.
Hayden Hurst TE (BAL)
Hayden Hurst Participates in minicamp: Hurst (hamstring) participated in team drills during June's mandatory minicamp, Jamison Hensley of ESPN.com reports.
What it means: Hurst missed out on the final days of OTAs in early June with a minor hamstring injury, but his full return for minicamp suggests he's back in working order. Of greater concern for the 2019 first-rounder is the continued emergence of fellow tight end Mark Andrews , who was taken two rounds after Hurst last spring but has made more of a mark in the NFL to date. Both tight ends nonetheless figure to be heavily involved in the Ravens offense this season, though, as both caught touchdown passes from Lamar Jackson in red-zone team drills during minicamp.
Hurst isn't currently being drafted in fantasy drafts right now.
Tyler Higbee TE (LAR)
Tyler Higbee Could lose starting job: Higbee is facing increased competition from Gerald Everett, who appeared much improved during the offseason program, ESPN.com's Lindsey Thiry reports.
What it means: The Rams have favored Higbee's blocking over Everett's receiving ability for the starting job, but it may be a different story now that the latter is becoming more comfortable as a blocker. There's also the matter of Cooper Kupp (knee) not being a lock for Week 1, which could inspire coach Sean McVay to place a greater emphasis on throwing to his tight ends. Of course, the same scenario also would encourage increase use of two-TE formations, something the Rams started to do after Kupp suffered his season-ending ACL tear in November. Regardless of the different scenarios, the 26-year-old Higbee hasn't shown much hint of upside beyond his receptions totals from the past two years (25 and 24).
Higbee isn't currently being drafted in fantasy drafts right now.
News and analysis powered by RotoWire.
---
Filed under: Free Articles