Mac Jones
New England Patriots
Quarterback #10
New England Patriots
Quarterback #10
Photo: Icon Sportswire
Personal
| | |
| --- | --- |
| Age | 23 |
| Birthdate | September 5, 1998 |
| Height | 6'3" |
| Weight | 217 lb |
Draft
College
Alabama
Year
2021
Pick
Round: 1, Overall: 15
Team
NE
Fantasy Value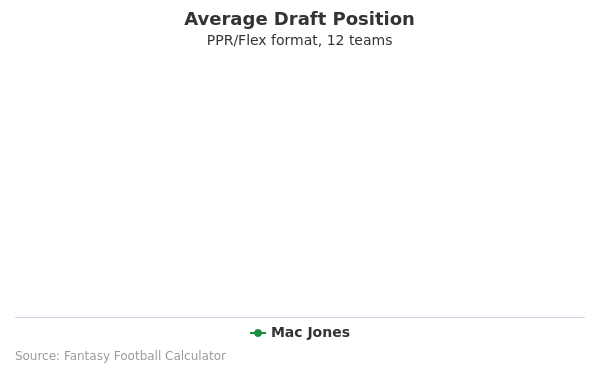 The code below will display a graph that updates every day to show the ADP data for Mac Jones for the past 30 days in 12-team PPR leagues.
You may use this graph on your website for free with a link back to this page for attribution.
Player News
Mac Jones: Overmatched in playoff loss
Jones completed 24 of 38 passes for 232 yards, two touchdowns and two interceptions in Saturday's 47-17 loss to Buffalo.
Analysis: Though New England was overmatched in nearly all aspects of its wild-card matchup, Jones was unable to get the offense moving while the game remained within reach. His play during the first offensive possession was an exception, as he found Hunter Henry for a 30-yard completion and also scrambled for a 16-yard gain. However, he was picked off by Micah Hyde in the end zone to end the rally. After that, positive plays were few and far between, as Jones ended the first half with only 10 completions for 106 yards. He managed to pad his stat line with a pair of touchdown passes to Kendrick Bourne with the Patriots down by at least three scores in the second half. Despite the loss, Jones showed promise during his rookie season and will be back under center to lead the New England offense for the 2022 campaign.
Jan. 15, 2022 8:58 PM EST
Player Stats
YEAR
TM
GM
Passing
Rushing
CMP
ATT
%
YDS
YPC
TD
INT
SACKS
ATT
YDS
YPC
TD
FUM
Recent Articles
Week 18's Dynasty Week in Review reminds you of some old friends, is in love with Javonte Williams, also loves Tee Higgins, and flags...
Read more »
January 8, 2022. Premium
Congratulations to those that have made it through to the fantasy semi-finals! Week 15 is a prime example of why you want to get that...
Read more »
December 22, 2021. Premium
December 22, 2021
Premium
If your fantasy squads were not sunk by the torpedoes that were Jonathan Taylor and Austin Ekeler last week, congratulations! The pair...
Read more »
November 25, 2021. Premium
November 25, 2021
Premium
Who Should You Start?
Who Should You Draft?