Tom Brady (QB) #12
| | |
| --- | --- |
| ADP: | Round: 9, Pick: 9 |
| Team: | New England |
| Ht / Wt: | 6'4" / 225 lb. |
| College: | Michigan |
| Age: | 39 |
| Born: | August 3, 1977 |
| Drafted: | 2000 / Rd. 6 (199) |
| Draft Team: | NE |
Injury Status - Week 18
Not on injury report
.
News
First player with six Super Bowl rings
Sunday, February 3, 7:23 PM
Brady completed 21 of 35 passes for 262 yards with no touchdowns and one interception in the Patriots' 13-3 win over the Rams in Super Bowl LIII on Sunday. He also lost two yards on two rushes and fumbled once, but it was recovered by the offense.
.
Average Draft Position (ADP) Value
March 22, 2019
Tom Brady's fantasy value is measured by his average draft position (ADP) in fantasy football mock drafts. In recent drafts, Brady's current ADP is 9.09, which indicates that his fantasy outlook is to be the 9th pick of the 9th round, and 104th selection overall.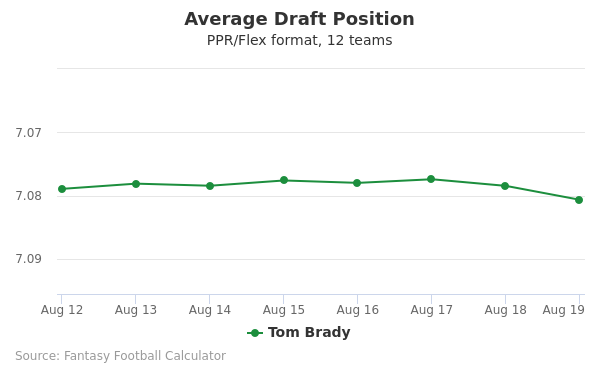 The code below will display a graph that updates every day to show the ADP data for Tom Brady for the past 30 days in 12-team PPR leagues.
You may use this graph on your website for free with a link back to this page for attribution.
Data from fantasy football 12-team standard scoring average draft position data, based off of the latest fantasy football mock drafts.
Recent drafts with Tom Brady:
| Draft # | Date | Format | Brady's Draft Pick |
| --- | --- | --- | --- |
| 5947772 | 3/22/2019 | Standard | 116th |
| 5947133 | 3/22/2019 | Standard | 85th |
| 5947130 | 3/22/2019 | Standard | 86th |
| 5947041 | 3/22/2019 | Standard | 82nd |
| 5947032 | 3/22/2019 | Standard | 110th |
| 5947029 | 3/22/2019 | Standard | 82nd |
| 5947028 | 3/22/2019 | Standard | 114th |
| 5946847 | 3/21/2019 | Standard | 116th |
| 5946844 | 3/21/2019 | Standard | 113th |
| 5946842 | 3/21/2019 | Standard | 112th |
Players drafted after Tom Brady:
.
Tom Brady Biography
Tom Brady is a perennial Pro Bowl quarterback for the highly successful New England Patriots. He has led the team to the Super Bowl in almost every other season of his career. Brady has won three Super Bowl MVPs, 12 Pro Bowl selections and two league MVP awards.
Many fans bid online for his autographed memorabilia, especially the number "12" jersey.
Childhood and High School
Sunny San Mateo, California was where Brady was born on August 3, 1977. He was the youngest of four children and the only son. As was common among boys in the Bay Area, Brady was a San Francisco 49er fan and devoted follower of Joe Montana, their star quarterback.
Brady was fortunate to actually have been in attendance at the 1981 NFC Championship Game when Montana threw an historic touchdown pass to Dwight Clark, winning the conference title.
In high school, Brady excelled at both football and basketball. These were the days before power rankings became prominent; however, most experts agree that he would have been a 4-star quarterback.
Brady was chosen a Prep Football Report All-American, leading many college recruiters to San Mateo to meet him. He had a shortlist of schools comprised of Cal, UCLA, USC, Michigan and Illinois.
College
Brady decided to attend the University of Michigan in 1995. The mighty Wolverines were at the top of the NCAA at the time.
The first two seasons were tough for the young quarterback. The team just had too many other stars. Brady never got to play. When he arrived on campus, Brady was a dismal seventh on the quarterback depth chart. This lack of success actually led him to get psychological counseling. Nevertheless, his team did well, winning the Rose Bowl in 1997 and a share of the National Championship.
In 1998 things changed for the better. Brian Griese, the previous starter, graduated, leaving Brady to compete for the job with nemesis Drew Henson. Brady started every game in 1998 and was able to set a school record for pass completions. Moreover, Brady led the team to a victory in the Citrus Bowl against Arkansas.
The next year, despite being team captain, Brady had to initially share quarterback duties with Henson. This platooning would last a total of seven games. Then, Brady began demonstrating a certain knack for pulling out victories from the jaws of defeat. Fans started calling him the "Comeback Kid."
Brady ended the season with an overtime Orange Bowl victory over Alabama. In the game, he threw an amazing 369 yards and four touchdowns.
NFL Draft
Though he had performed well at Michigan, NFL scouts did not hold Brady in high regard. The Patriots chose him in the sixth round of the 2000 draft.
At the pre-draft combine, Brady ran a 5.24 second 40 time and leaped 24.5 inches in the vertical jump.
As a rookie, Brady played only one game.
2015 NFL Season
The 2014-2015 season was one of highs and lows for Brady. He was able to win his fourth Super Bowl with a 28-24 win over the Seattle Seahawks. Brady was named game MVP for the third time. Nevertheless, the off season was full of controversy, calling into question the ethics of Brady and his team.
In May of 2015, the NFL ruled that Brady was aware of the deflation of footballs in the previous AFC Championship Game. The deflated balls made it easier for the quarterback to throw passes farther down the field and with increased velocity. The league suspended Brady for four games, a decision later overruled by a federal judge.
The Patriots performed well most of the year, despite the scandal and various injuries. Brady completed a career high 402 passes during the regular season. The team reached the AFC Title game but lost to the Denver Broncos, led by rival quarterback Peyton Manning.
2016 NFL Season
The season began with more lawsuits. The NFL appealed the court decision vacating the four game Brady suspension and eventually won. Thus, for the first four games of 2016, Tom Brady would not start at quarterback for the Patriots, something he had been doing since 2009.
Things went basically according to script most of the season. The team made it to the AFC Championship again, defeating the Pittsburgh Steelers, 36 to 17. In the game, Brady threw for 384 yards and three touchdowns.
The Patriots next meet the Atlanta Falcons in Super Bowl LI in Houston, Texas. This Super Bowl appearance sets another league record for the Patriot franchise. No other team has been so fortunate to appear in nine league title games.
Brady signed a contract lasting to 2019. His salary is now over $40 million.
Personal Life
Brady is married to former Brazilian supermodel Gisele Bundchen. The two are fixtures at the annual Carnival celebrations in Rio de Janeiro.
Fans can keep up with Brady and his highlights via Instagram (@tombrady) and Twitter (@tombrady14).
.
Player Comparison
Who should you draft?