Matt Schaub QB (ATL)
Matt Schaub Brutal start to 2019: Schaub completed four of 14 pass attempts for 10 yards, with zero touchdowns and one interception during Thursday's 14-10 loss to Denver in the Hall of Fame Game.
What it means: The 38-year-old signal-caller was relieved by Kurt Benkert (toe) late in the first quarter, but had to be re-inserted into the lineup when his fellow Virginia Cavalier suffered an injury in the fourth quarter. Atlanta's offense was completely stifled when Schaub was under center, as he completed just three of his first 10 passes for minus-two yards, while failing to yield a score of any kind on six offensive drives. Based on each player's performance Thursday night, it appears that Benkert has a puncher's chance to dethrone Schaub for the backup role if capable of quickly recovering from his toe injury.
Schaub isn't currently being drafted in fantasy drafts right now.
Drew Lock QB (DEN)
Drew Lock Serviceable in HOF Game win: Lock completed seven of 11 pass attempts for 34 yards with no touchdowns or interceptions in the Broncos' 14-10 preseason win over the Falcons on Thursday. He also rushed once for six yards.
Our take: The rookie entered the contest with 13:49 left in the second quarter and misfired on his first three attempts before hitting Nick Williams for his first completion. Lock ended up connecting on six of his subsequent seven attempts as well, but he averaged a meager 3.1 yards per attempt. Lock also took two sacks in what was a middling performance overall, but the second-round pick at least got plenty of work in. Given that he's considered a high-upside prospect that nevertheless still needs a fair amount of seasoning, Lock figures to be in for another extended audition against the Seahawks in Broncos' second exhibition.
Lock isn't currently being drafted in fantasy drafts right now.
Joe Flacco QB (DEN)
Joe Flacco Set to sit out Thursday's contest: Flacco is among the Broncos' starters not in line to play in Thursday's Hall of Fame Game against the Falcons, Zac Stevens of BSNDenver.com reports.
What it means: With Flacco slated to sit the game out, Kevin Hogan is slated to start Thursday's game, followed by Drew Lock then Brett Rypien. Denver's second preseason game will take place next Thursday against the Seahawks.
Flacco isn't currently being drafted in fantasy drafts right now.
Matt Ryan QB (ATL)
Matt Ryan Not expected to play Thursday: The Falcons are expected to rest plenty of veteran players, including Ryan, in Thursday's Hall of Fame game against the Broncos, D. Orlando Ledbetter of the Atlanta Journal-Constitution reports.
Our take: With Ryan expected to be held out Thursday, look for young Kurt Benkert and veteran backup Matt Schaub to handle the team's QB duties against Denver.
The fantasy value of Matt Ryan is measured by his average draft position (ADP). The graph below shows how it's trending in the latest mock drafts . In recent drafts, Ryan's current ADP is 7.03
How much this impacts Ryan remains to be seen.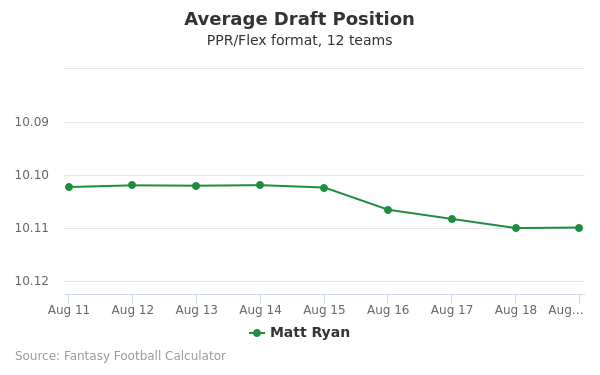 Colt McCoy QB (WAS)
Colt McCoy In the mix for QB reps: Coach Jay Gruden said Thursday that McCoy is "right there" in the quarterback competition, Les Carpenter of The Washington Post reports.
Our take: With Case Keenum in line to open the season as the starter for a team expected to shift to Dwayne Haskins long-term, McCoy is a name that's often forgotten. He has started 27 games in his career, including two for Washington in 2018, making him much more experienced than the average backup. Nonetheless, it seems unlikely McCoy will remain in contention for a significant role, barring any kind of injury that shakes up the depth chart.
McCoy isn't currently being drafted in fantasy drafts right now.
News and analysis powered by RotoWire.
---
Filed under: Free Articles